Gail Sheridan accused of using IRA interview technique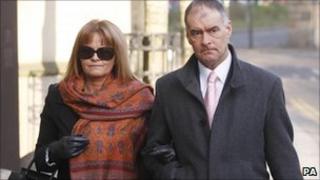 The wife of former socialist MSP Tommy Sheridan was accused of acting like an "IRA terrorist" during police questioning, a perjury trial has heard.
The comparison was made of Gail Sheridan during a five-hour interview by police in February 2008.
Det Sgt Stuart Harkness told the High Court in Glasgow her persistent silence and focus on a set of rosary beads was a technique used by terrorists.
Mr and Mrs Sheridan, both 46, deny perjury.
They are accused of lying during his successful defamation case against the News of the World in 2006.
The former leader of the Scottish Socialist Party (SSP) won £200,000 in damages after the newspaper printed allegations about his private life, claiming he was an adulterer who had visited a swingers' club.
Following a police investigation, Mr Sheridan and his wife were charged with perjury.
However, as the prosecution closed their case against the former MSP, charges against the couple were withdrawn.
The indictment had been divided into a number of subsections, 10 of which have been withdrawn.
In Mr Sheridan's case, the deleted subsections related to an alleged conversation about a night of "madness" at a Glasgow hotel.
It had been claimed Mr Sheridan lied when he told the Court of Session in Edinburgh on 21 June, 2006 that no conversation took place between him and Keith Baldassara during which he said he was present at "madness" in a Glasgow hotel, but did not participate.
It had also been alleged Mr Sheridan attempted to convince SSP leader Colin Fox to commit perjury but this has been removed from the indictment, the court was told, due to a lack of corroboration.
The Crown also withdrew an allegation that Mrs Sheridan lied when she said she saw her husband phoning directory inquiries and asking for the number of Cupid's health club, and that her aunt arrived in Scotland from the US on 14 June 2002.
The other allegation dropped was that she lied when she said she saw Katrine Trolle at the Scottish Socialist Party Conference in Perth in 2005.
Allegations against the former MSP and his wife relating to an alleged incident at the Moat House hotel in Glasgow have already been dropped.
As the prosecution's case against Gail Sheridan got under way, Mr Sheridan, who is conducting his own defence, asked Det Sgt Harkness, 38, whether he had "harassed and intimidated" the former politician's wife.
Mr Harkness, who was involved in a Lothian and Borders Police investigation into the couple, replied: "Not at all."
The detective was also part of the police interview team which questioned Mrs Sheridan for five hours in February 2008.
Mrs Sheridan had initially been allowed to take her rosary beads with her into the interview room, however, they were removed after two hours.
'Nasty interview'
Mr Harkness told the jury she had been "focusing solely on them" and that they were a "potential distraction".
Mr Sheridan asked: "Why did you suggest that she was then acting like a terrorist?"
Mr Harkness replied: "She was failing to engage at all. She did not look at us or productions.
"Focusing on something else is a technique used by people in that regard."
Mr Sheridan went on: "So when a suspect takes up their right to remain silent, you think it is all right to suggest they are acting like a terrorist?"
The detective said: "It is one thing to remain silent, it is another not to engage."
Mr Sheridan said the "nasty" interview had amounted to "pure and utter intimidation".
He went on: "Was it because she was a practising Catholic and acting on the advice of her QC that you accused her of acting like a Provisional IRA terrorist?"
Mr Harkness said: "Not at all."
Mr Sheridan concluded: "You conducted a vendetta against me, my family and my friends."
The detective sergeant replied: "I strongly disagree in that regard, Mr Sheridan."
'Under instruction'
The court earlier heard how the Lothian and Borders police investigation - named Operation Median - started about October 2006.
Another officer involved in the case, Det Sgt Gerald Fraser, 51, told how he held a number of roles in the investigation, including office manager.
During questioning from Mr Sheridan, Mr Fraser denied the inquiry was "pre-determined" and had started off with the aim of going after Mr Sheridan and his wife.
Under questioning from prosecutor, Alex Prentice QC, the police officer also denied that the inquiry was biased or was acting under instruction from the News of the World.
The indictment against the Sheridans now contains two charges.
It is alleged Mr Sheridan made false statements as a witness in the defamation action of 21 July, 2006.
Mrs Sheridan denies making false statements on 31 July, 2006, after being sworn in as a witness in the civil jury trial.
The trial, before Lord Bracadale, continues.