Man jailed for possessing loaded gun in Glasgow club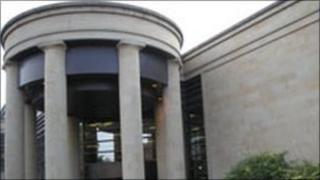 A man who was armed with a loaded gun in a busy Glasgow club has been jailed for five years.
Anton Duffy, 36, from County Donegal, Ireland, admitted having the revolver and seven live bullets at Firewater in Sauchiehall Street in August.
The High Court in Glasgow heard how Duffy was given the gun to look after by an unnamed man and was too terrified to say no.
Police were called after he produced the gun during a scuffle with bouncers.
The court heard how a fight broke out on the dance floor of the club after Duffy's friend threw a drink over another reveller.
Stewards were then called to break up a fight between two women.
While they were doing this they noticed that Duffy had what appeared to be a gun inside his jacket.
Duffy then grabbed the gun and was about to pull it out when one of the stewards restrained him in an arm lock.
Serious offences
Two colleagues then grabbed Duffy's hand with the gun in it and forced him against a wall.
A member of staff then alerted two passing police officers who disarmed and handcuffed Duffy.
Sentencing him, judge Lord Kinclaven said: "You committed two serious offences. You had in your possession ammunition - seven 0.32 calibre bullets - and you also had in your possession a prohibited weapon, a revolver."
But, Lord Kinclaven added: "I take into account your fear of what might have happened if you did not agree to take the weapon.
"You showed poor judgement at the time of the offence. You are a talented artist and were a talented athlete and have no previous convictions."
The judge said that in view of this he could impose the minimum five-year sentence for the firearms offences.