Tabloid journalist 'stopped Fiona McGuire suicide bid'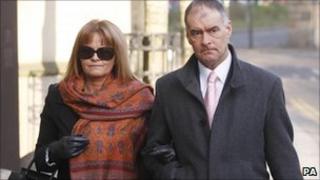 A former Scottish News of the World news editor has told the Sheridan perjury trial he stopped a suicide attempt by a woman who claimed to have had an affair with the former MSP.
Douglas Wight said he got Fiona McGuire to empty her mouth of pills after she told him she was anxious about giving evidence against her "former lover".
He said it happened before Ms McGuire gave evidence for the newspaper when it was sued by Mr Sheridan in 2006.
Tommy and Gail Sheridan deny perjury.
The couple, both 46, deny lying under oath when Mr Sheridan successfully sued the News of the World for defamation in 2006.
Mr Sheridan won £200,000 in damages following the newspaper's claims that he had a four-year affair with Ms McGuire and had visited swingers clubs.
Advocate Depute Alex Prentice QC, prosecuting, said he had no questions to put to Mr Wight when he took to the witness box and Mr Sheridan, who is conducting his own defence, moved straight into cross-examination.
He said: "You have described your paper as chancers."
Mr Wight replied: "I used that term as advice to Fiona McGuire. She could use that as a way to describe the story.
"It was said to her that she could say to people that the News of the World had done that, they are chancers."
Mr Wight told the High Court that he first became aware of a story involving Ms McGuire through a freelance journalist in the north east, after she "let slip" that she was having a relationship with Mr Sheridan.
Mr Sheridan asked: "Over that period of months you did everything possible to check out her story?"
Mr Wight replied: "Yes."
The former SSP leader then asked: "You never once thought that she was maybe telling a lie?"
Mr Wight: "No, I never thought that. Right from when she spoke to the freelance journalist to her giving evidence in 2006, Fiona McGuire has never said anything other than that she had an affair with you."
'Very daunting'
Mr Sheridan suggested that when the News of the World "waved wads of cash" people "forget about the truth".
Mr Wight said: "You should know, Mr Sheridan. You took £30,000 from the Daily Record."
The court also heard Ms McGuire tried to commit suicide because she was anxious about giving evidence in 2006.
Mr Wight said it happened while they were in a hotel together before the Court of Session case.
He added: "She said the prospect of facing someone she described as a former lover, she found very daunting."
Mr Wight told the jury Ms McGuire had medication for ongoing health problems and anxiety.
He went on: "She took a handful (of pills) and put them in her mouth. I don't know what the intention was.
"I took her through to the bathroom and made her empty her mouth and made sure she did not swallow any pills."
'A relationship'
Mr Sheridan later asked: "Were you having a relationship with Fiona McGuire?"
Mr Wight said: "Absolutely not."
The indictment against the Sheridans contains three charges in total, two of which are broken into subsections.
It is alleged Sheridan made false statements as a witness in the defamation action of 21 July 2006.
He also denies a charge of attempting to persuade a witness to commit perjury shortly before the 23-day trial got under way.
Mrs Sheridan denies making false statements on 31 July 2006, after being sworn in as a witness in the civil jury trial.