Paintbrush injury pupil set to receive pay-out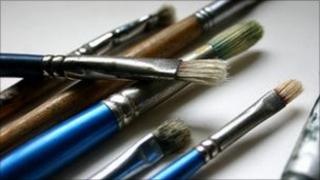 A council has been held responsible for an accident which left a 10-year-old pupil with "catastrophic" brain damage.
Thomas Brown, now 18, attended Ladywell School in Motherwell when he fell on a paintbrush which pierced his eye.
The Court of Session in Edinburgh ruled that North Lanarkshire Council failed to prevent a foreseeable risk of harm.
Mr Brown's father, Christopher, is seeking damages of £2.5m. The court will rule on the level of compensation at a later date.
Judge Lady Dorrian heard that the accident happened while Thomas and his classmates were working on scenery for a school show in April 2003.
They were kneeling or crouching on the floor painting four sheets of paper which had been stuck together. The paper was too big to fit on a desk.
A girl stood up and bumped into Thomas, causing him to topple over and fall onto the paintbrush of a third child.
The pointed end of the foot-long thin brush went into his left eye.
The court heard that the accident had left him with no sight in his left eye and he had also suffered "a number of permanent disabilities", including poor concentration and memory and significant fatigue.
In the action, it was alleged the accident had affected Thomas's chances of finding a job and that it was unlikely he would be able to live independently in future.
Lady Dorrian was told that since the accident the local authority had issued a "safety flash" warning, stopping children working on the floor and banning the use of long paintbrushes.
Mr Brown claimed that the "risk assessment" carried out after his son was hurt should have been done before the accident, and could have prevented the tragedy.
He also claimed that those supervising the class at the time were at fault.
In her written ruling, Lady Dorrian said: "Foreseeability is not the same as frequency - an accident might rarely happen yet nevertheless be foreseeable."
She said that the teachers present at the time seemed to be aware of some dangers but had not taken others into account.
"When one looks at the whole circumstances of the use of the brush a real risk of injury emerges as foreseeable," she said.
"A reasonable person in the position of the teachers would have taken steps to prevent that foreseeable risk of harm to Thomas."
The judge said the work could have been done on separate sheets of paper with safer paintbrushes.
She added: "There was no persuasive reason why the task could not have been done at desks."
A spokesman for North Lanarkshire Council said: "We are studying the court's findings and it would be inappropriate to comment further at this stage."