Emergency teams simulate M80 disaster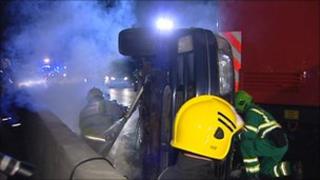 Emergency service workers have taken part in one of the largest simulated road crashes ever held in Scotland.
The exercise - at Moodiesburn, North Lanarkshire - was also one of the biggest exercises of its kind held in the UK.
It included jack-knifed lorries, cars, a bus and motorcycles, with actors playing the part of injured motorists covered in fake blood.
The disaster was enacted on a stretch of the newly upgraded M80 motorway.
Among the scenarios included at the scene was a car which had been crushed by scaffolding poles after a collision with a flatbed lorry.
A spokesman for Strathclyde Fire and Rescue Service said: "This was the biggest exercise of its kind in Scotland, if not the biggest in the UK."
He added: "It was a test of getting people out quickly and as safely as possible for all the emergency services."
'Unique opportunity'
Strathclyde Police and the Scottish Ambulance Service also took part in the exercise, held late on Monday.
Robert Scott, an assistant chief officer in charge of training at Strathclyde Fire and Rescue Service, told BBC Radio Scotland's Good Morning Scotland programme: "It was very realistic.
"I think this was as real as we could have possibly expected and certainly, you know, given the atmosphere that it was a dark, cold night, with the blue lights flashing on the motorway and everyone taking it in the spirit that it's meant, it's as realistic as you could possibly make it for a simulation and still maintain a degree of safety.
"The casualties were all live casualties and excellent actors with fake injuries and blood etcetera, so very realistic in that respect as well."
Asked whether it was difficult to get locations like a stretch of motorway for exercises, Mr Scott said Strathclyde Fire and Rescue Service were "very grateful" for being allowed to use the area.
He continued: "It's something that's not possible normally.
"You can't close a motorway off just to carry out training. So it is a unique opportunity and we are absolutely delighted to have been involved."
The stretch of the motorway used in the exercise has yet to be opened to motorists as it is part of the £320m M80 upgrade project.
The completion of the M80 is due to be finished by the autumn of next year.