Scots dentists trained 'to spot domestic abuse victims'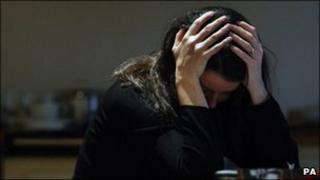 Dentists in Scotland are to be trained to spot the signs of domestic abuse and encourage victims to seek help.
More than 90 practitioners in the NHS Ayrshire and Arran area will be taught how to recognise teeth, face and head injuries, common among abuse victims.
The charity behind the scheme, Medics Against Violence, hopes other health boards will take up the training.
It said dentists were ideally placed to spot the signs of abuse as they worked in close proximity to their patients.
The initiative was launched at the North West Kilmarnock Area Centre by Medics Against Violence founder Dr Christine Goodall and Deputy First Minister Nicola Sturgeon.
Dr Goodall said: "Victims of domestic abuse often suffer injuries to their teeth, face and neck, so dentists are often the first healthcare professionals they will see.
"We felt it was time to take advantage of this "golden moment" to intervene and help.
"On average it takes around 35 incidents of abuse before a victim feels able to tell the police or a support service. This is about helping, encouraging and supporting victims to be able to make that call whenever they are ready."
Common injuries
NHS Ayrshire and Arran is the first Scottish health board to take up the training, which comprises a short film and a series of discussions from medics and police.
Ms Sturgeon added: "It is a fact that the teeth, face and head are the most commonly injured sites in incidents of domestic abuse.
"In a recent survey 70% of patients who sought help from their dentist wished they had been asked about their injuries.
"That is why this initiative and training for dentists is vital. It will ensure they have the skills and ability to deal with disclosure professionally and confidently."