Killer stabbed victim in the neck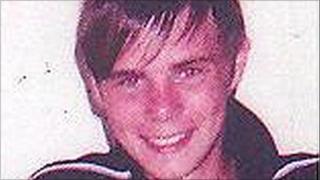 A man has been convicted of murder after stabbing his victim across the neck when he was told to leave a flat in the Easterhouse area of Glasgow.
Marc Burnett, 20, killed 21-year-old Robert Gemmell at the flat in Duntarvie Road in April.
The High Court in Glasgow was told Burnett was seen laughing and joking at a local shop the day after the killing.
Temporary judge Rita Rae deferred sentence until next month for background reports.
The judge told Burnett he faced a "significant punishment".
On the day of the murder, Burnett went to visit his mother armed with two knives, which he said were for protection.
As he walked towards her home, he met two girls who asked him to accompany them to the Duntarvie Road flat.
However, when they arrived at the door, they were asked to leave.
Instead of going, Burnett pulled out his knives and attacked Mr Gemmell.
Mother-of-four Tracey Potter, who lived at the flat, told the trial she saw Mr Gemmell, who was her daughter's boyfriend, get stabbed in the neck by Burnett.
She said: "Marc was standing with two knives.
"He pulled them from behind his back. Marc Burnett swung the knife at big Bob Gemmell and struck him on the neck. Bob just staggered back and was holding his neck.
"Marc Burnett went to strike Bob Gemmell with the knife again and I put my hand up and my hand was cut."
Sweeping gestures
Pathologist Marjorie Black said the stab wound suffered by Mr Gemmell went from one side of the neck to the other and cut the carotid artery.
Dr Black said the cause of death was massive blood loss from the single stab wound.
In evidence, Burnett, who has previous convictions for carrying a knife and another for assault involving a knife, claimed that he was carrying the knives for his protection as he had been stabbed earlier.
He also said his hooded top was over his eyes and he could not see and was making sweeping gestures with the knives.
In addition to the murder charge, Burnett was also found guilty of assaulting Mrs Potter with a knife to her severe injury and assaulting another man, Robert Caldwell, by striking him on the head and body with a knife to his injury.
The judge told him: "The evidence in this case and your record displays a dangerous and callous young man who has shown no remorse.
"You believe you are entitled to carry knives as a matter of course on the streets of Glasgow.
"Young men who carry knives have a propensity to use them. You carried knives on a regular basis."