Items removed from Gartocharn explosion scene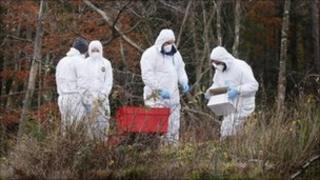 Specialist officers have removed items from the scene of an explosion, which happened in woods near Loch Lomond.
Strathclyde Police has refused to reveal the nature of the items but said they had been taken to a laboratory for forensic examination.
Officers, including bomb disposal teams and forensic scientists, have been working at woodland in Garadhban Forest near Gartocharn since Wednesday.
It follows reports of a mysterious blast at the site about midday.
A fingertip search of the site has already been conducted by the force, who are being assisted by a team of counter-terrorism officers.
'Potentially prejudicial'
Police said a criminal investigation into the incident was under way.
Det Ch Supt John Mitchell said: "We have undertaken a painstaking and meticulous search of a large rural area and our attention to detail is already paying dividends.
"We have removed some items for examination and it would be inappropriate to elaborate further on the detail of this potential evidence.
"We cannot stress enough, the need for absolute certainty before confirming the nature of this incident.
"Any speculation at this time is entirely unhelpful and potentially prejudicial to any trial which may occur."
The investigation is centred around a wooded area about 300 to 400 yards from Ross Priory, a 19th century function venue owned by Strathclyde University.
The area remains cordoned off and police insisted there was no risk to anyone living, working or visiting the area.