Tommy Sheridan 'admitted attending hotel sex party'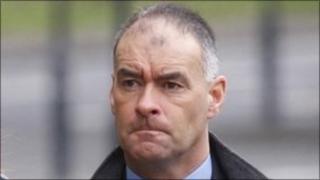 The Tommy Sheridan perjury trial has been told that the former MSP admitted to a friend that he attended a sex party at a Glasgow hotel.
The politician's former election agent, Keith Baldassara, said Mr Sheridan told him he had attended but not taken part in the event, which included group sex.
Mr Sheridan and his wife Gail deny perjury at the High Court in Glasgow.
They are accused of lying during his successful defamation case against the News of the World in 2006.
The former leader of the Scottish Socialist Party (SSP) won £200,000 in damages after the newspaper printed allegations about his private life, claiming he was an adulterer who had visited a swingers' club.
Following a police investigation, Mr Sheridan and his wife, both 46, were charged with perjury.
SSP member Mr Baldassara, told the court on Friday of a meeting he had with Mr Sheridan at Glasgow City Chambers, at which he raised the issue of the alleged event at the hotel.
Their discussion was said to have happened in the days after the Glasgow wedding of Gail Sheridan's younger sister to Andrew McFarlane.
Mr Baldassara, who was one of three best men at Mr Sheridan's wedding, told the court: "What I said to Mr Sheridan was it came to my attention that he had attended an event at a hotel in Glasgow the evening before Andy and Gillian's wedding.
"I'd actually heard Andrew McFarlane talking about a sex party in a room at this hotel that he had described as a night of madness, having group sex with a woman who had been flown in.
"I raised with Tommy my concern about that being spoken so publicly and so openly by Andrew McFarlane."
Mr Baldassara said Mr Sheridan told him he had attended the event.
The witness told the court: "The response he made was that it was a night that was put on for Andy.
"It involved a group of people, swingers, there by their own accord. It wasn't about sex being bought or paid for and therefore had no involvement in prostitution, which was concerning me.
"Tommy said he attended the event but didn't participate."
Psychiatrist visit
Earlier, the trial heard how lawyers for the News of the World arranged for a psychiatrist to see a witness in Mr Sheridan's defamation case.
Kenneth Lang, a partner with Mellicks Solicitors, said the session took place during the case due to concerns over the mental welfare of Fiona McGuire.
She is alleged to have had an affair with the former MSP.
The court also heard how the lawyer was at a meeting with the then News of the World editor, Andy Coulson, who came to Glasgow to see a video secretly filmed by Mr Sheridan's best man and former friend, George McNeilage.
It is alleged that the video shows Mr Sheridan admitting to claims made in the newspaper about his private life.
Mr Sheridan suggested to Mr Lang it was "strange" that he may not have kept notes of a meeting with the paper's top staff at which they viewed the tape.
The politician asked: "The boss of News of the World flies up to Glasgow to see a video, there's some discussion, he has got his legal manager with him and you cannot find a single note of that meeting?"
Mr Lang said he may not have kept a note of what happened.
Mr Sheridan then asked: "Do you accept it's rather strange there's a high-powered meeting with the two top men from Wapping and there's no notes of the meeting?"
Mr Lang replied: "The meeting was to view the video. Then we went for lunch."
The trial also heard how Anne Colvin and Helen Allison - two witnesses at the defamation trial - spent £4,500 while staying at a hotel in Edinburgh.
Champagne bill
This included six bottles of Rose champagne, with £1,950 of the sum going on a Jaguar car to take them the five-minute journey to the Court of Session.
Mr Lang said his firm made the booking so it was their "responsibility" to make payment.
It is alleged that Mr Sheridan made false statements as a witness in his defamation action against the News of the World on 21 July 2006.
He also denies another charge of attempting to persuade a witness to commit perjury shortly before the 23-day legal action got under way.
Mrs Sheridan denies making false statements on 31 July 2006, after being sworn in as a witness in the civil jury trial at the Court of Session in Edinburgh.
The trial, before Lord Bracadale, continues.