Glasgow City Council fund aims to create 1,000 jobs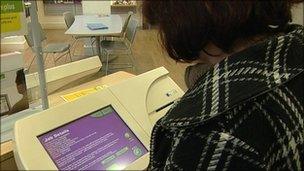 A £7m scheme which aims to create 1,000 jobs for unemployed young people has been launched by Glasgow City Council.
The Commonwealth Jobs Fund seeks to help 18 to 24 year olds who have been out of work for more than six months.
It will be open from January next year until July 2012 and will pay up to £6,500 towards each new job created.
Priority will be given to employers who pay a "living wage" of £7 per hour and private and third sector organisations with fewer than 250 people.
The initiative aims to contribute to the legacy of the 2014 Commonwealth Games in Glasgow.
It follows the Commonwealth Apprenticeship Initiative, which the city council said had "provided places for hundreds of Glaswegian school-leavers in 2010".
The scheme was officially launched by council leader Gordon Matheson at the 13th annual State of the City Economy Conference.
He said: "The £7m that we are investing today is available thanks to the private sector's commitment to the Commonwealth Apprenticeship Initiative.
"Thanks to the way you enthusiastically stepped up to the plate and invested your own money in taking on almost 600 apprentices in 2010 alone, the council's own budget for the scheme was significantly under-spent.
"Having saved us that money, we are now pleased to be redirecting it back to you through the Commonwealth Jobs Fund."
Councillor Matheson said the authority was sending a message that to unemployed young people that they would not be abandoned.
Related Internet Links
The BBC is not responsible for the content of external sites.