Newspaper editor 'stripped to see Tommy Sheridan tape'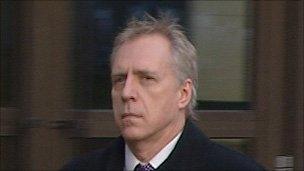 The News of the World Scotland editor has told a court he stripped to his underwear to view a secret video tape allegedly showing Tommy Sheridan.
Bob Bird, 54, gave details of a meeting with George McNeilage who previously told the court he was worried Mr Bird would be "wired".
Mr Bird was giving evidence at the High Court in Glasgow, where Mr Sheridan and his wife Gail are accused of perjury.
They deny lying during his defamation victory against the newspaper in 2006.
The former Scottish Socialist Party (SSP) leader won £200,000 in damages after the News of the World printed allegations about his private life, claiming he was an adulterer who had visited a swingers club.
Following a police investigation, Mr Sheridan and his wife, both 46, were charged with perjury.
The trial called again on Friday after a three-day adjournment because Mr Sheridan was ill.
Earlier this week, Mr McNeilage told the court that the Sunday newspaper paid him £200,000 for video footage he had secretly filmed.
It is alleged to show Mr Sheridan, in November 2004, confessing to claims about his private life.
Mr McNeilage also told the court that when he first let Mr Bird see the tape he was worried the journalist would be "wired".
Giving evidence, Mr Bird said he received an anonymous phone call from a man after Mr Sheridan won his defamation case in 2006.
He said: "I took a phone call the week after the defamation trial ended. I didn't know who that call was from.
"The man on the end of the phone had something that could help prove that Tommy Sheridan had lied in court."
Describing the meeting in Pollok, he said only Mr McNeilage was there.
He said: "He held up various signs telling me not to talk, he told me that he wanted to check if I was wired up. He asked me to remove my clothes, which I did. I went into the toilet and put them in a bag. I kept my underwear on.
"He said 'I'm Tommy's best man', at which point my blood ran cold as I thought Tommy Sheridan was going to burst into the room with a video camera.
"To my relief he then said 'I'm going to show you a tape', so I sat on a sofa in my underwear and we watched the tape.
"Mr McNeilage asked for money for the tape, he said £250,000."
Alex Prentice QC, prosecuting, asked if he considered the tape to be of interest and he replied "yes".
He said the tape was taken to various experts around the country to be verified and that Mr McNeilage was paid £200,000 for it following negotiations.
Cross-examining Mr Bird, Mr Sheridan, who is defending himself, asked whether the newspaper abides by the Editors Code of Practice which gives guidelines on how newspapers should deal with issues such as accuracy, harassment and privacy.
Mr Bird said they do their best to observe it.
Mr Sheridan asked: "Is it not the case that you only follow the code of practice when you have to?", to which the editor replied: "That's not true."
Asked why he did not disclose the amount paid to Crown witness Mr McNeilage for the tape to the prosecution and defence, Mr Bird said it was because they had signed a confidentiality clause to keep the amount private at Mr McNeilage's request.
Mr Sheridan asked why he thought it was in the public interest to publish details of the video in the newspaper, which happened in October 2006.
Mr Bird said there was a "huge overwhelming public interest".
He told the court: "In the public interest it proved that you had stood in court and lied, and it proved to my mind that 18 people who had given evidence on our behalf and been wrongly labelled as liars, it proved that they had been telling the truth."
Mr Bird also told Mr Sheridan people who had voted for him "deserved to know what you were like".
Mr Sheridan then asked: "The jury did not find the way you wanted it to find?"
Mr Bird replied: "You duped them. No, the jury did not find the way we wanted."
Mr Sheridan later spoke about illegal phone-tapping and bugging being dubbed "the black arts".
The ex-MSP asked Mr Bird: "Did you practice 'black arts' as editor of the Scottish News of the World?"
The witness replied: "Absolutely not."
Mr Sheridan also asked: "Ever sanctioned or been aware of surveillance on me, my phone or my car?"
Mr Bird said: "No, none at all."
However, the editor did admit talking to police amid claims a bug had been found in Mr Sheridan's vehicle.
Mr Sheridan asked what the police had said.
Mr Bird replied: "The basic thrust was 'was it us?', 'did you bug the car?'." Mr Bird denied the paper was involved.
The editor said the newspaper had only once used a private detective in relation to Mr Sheridan and that was to try and trace SSP member Duncan Rowan.
Mr Bird also denied that investigator Glen Mulcaire - jailed in 2007 along with the paper's royal editor for phone hacking - had been hired.
The jury again heard about Fiona McGuire, who was the focus of a News of the World story claiming she had an affair with the former politician.
The court was told Miss McGuire was given £20,000, that the paper paid for her to go to Dubai and arranged a flying lesson for her.
Mr Sheridan suggested people such as Miss McGuire and Mr McNeilage had "smelled the big money" and were "prepared to say anything".
Mr Bird told him: "I don't believe that's true."
The ex-MSP added: "You just lie and your paper goes out to destroy people's lives."
Mr Bird replied: "Not true."
It is alleged that Mr Sheridan made false statements as a witness in his defamation action against the News of the World on 21 July 2006.
He also denies another charge of attempting to persuade a witness to commit perjury shortly before the 23-day legal action got under way.
Mrs Sheridan denies making false statements on 31 July 2006, after being sworn in as a witness in the civil jury trial at the Court of Session in Edinburgh.
The trial, before Lord Bracadale, continues.
Related Internet Links
The BBC is not responsible for the content of external sites.