Coatbridge killer couple snared by 999 call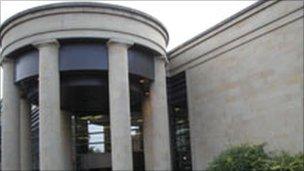 A man and woman are facing life sentences after a 999 call helped convict them of a brutal killing in North Lanarkshire.
Colin Renicks, 38, and his 20-year-old girlfriend Megan Watt used a bottle and knives to kill Ann Marie Kelly at her Coatbridge home in February this year.
The High Court in Glasgow heard how they did not realise the attack was being recorded by emergency operators.
Sentence on Renicks and Watt was deferred for background reports.
Following a trial, Watt was convicted of murder. Renicks had pleaded guilty to murder after the end of the prosecution case.
The court heard that Renicks and Watt launched the attack because they thought 36-year-old Ms Kelly was going to give evidence in court against Renicks.
The jury was shown a letter dated 18 February, in which Watt wrote to Renicks: "See if Ann Marie goes to court I'm gonna stab...her."
The victim's boyfriend Joseph Curtis, who was forced to watch the attack, managed to dial 999 on his phone.
The killers grabbed the phone from Mr Curtis and threw it away, but unknown to them it was still recording.
In a horrific 20-minute call, which was played to the jury, terrified Ms Kelly, whose arm was in a plaster, was heard shouting: "Please don't, don't please."
At one point in a desperate bid to stop the violence the mother-of-one pretended to her killers that she was pregnant, but the attack continued.
On the tape Renicks is heard saying: "I need to kill her."
At one point Watt said: "I pushed the blade right in. It's me that killed her."
During the tape the jurors could hear a bottle being smashed over her head and the sound of a knife being stabbed into her face.
Ms Kelly died from blood loss and blunt force trauma to the head.
Temporary judge John Morris QC took the unusual step of excusing the jurors from serving on another jury for 10 years and said to them: "This case has been especially harrowing."
He deferred sentence on Renicks and Watt until next month to obtain background reports.
At the next court hearing he will determine how many years they have to serve in jail before becoming eligible for parole.
Related Internet Links
The BBC is not responsible for the content of external sites.