Trial delayed for unwell Tommy Sheridan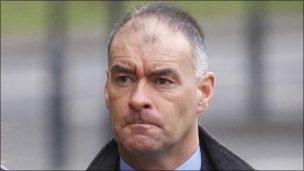 The Tommy Sheridan perjury trial has been delayed until Friday after the former MSP became unwell.
Judge Lord Bracadale told the jury at the High Court in Glasgow that Mr Sheridan's doctor had certified him as unfit to attend court.
The former Scottish Socialist Party (SSP) leader and his wife Gail, both 46, deny perjury.
They are accused of lying during his successful defamation case against the News of the World in 2006.
Mr Sheridan won £200,000 in damages after the newspaper printed allegations about his private life, claiming he was an adulterer who had visited a swingers club.
Following a police investigation, the former MSP and his wife were charged with perjury.
Mr Sheridan was not in the dock beside his wife Gail when the trial called on Tuesday morning.
Lord Bracadale briefly addressed the jury to tell them no more evidence would be heard until Friday, at the earliest.
The judge said: "I have to tell you that Mr Sheridan is unwell. You will see that he is not in court.
"Yesterday afternoon he went to see his doctor who certified that he is unfit to attend court at present.
"The doctor will review the position on Thursday. Mr Sheridan himself wishes, if at all possible, to continue the trial on Friday."
Lord Bracadale concluded: "In these circumstances, there is nothing else to do, but adjourn the case until Friday morning."
It was not revealed what illness Mr Sheridan was suffering from.
It is alleged that the former MSP made false statements as a witness in his defamation action against the News of the World on 21 July 2006.
He also denies another charge of attempting to persuade a witness to commit perjury shortly before the 23-day legal action got under way.
Mrs Sheridan denies making false statements on 31 July 2006, after being sworn in as a witness in the civil jury trial at the Court of Session in Edinburgh.
Related Internet Links
The BBC is not responsible for the content of external sites.