Tommy Sheridan's best man denies 'secret tape sell out'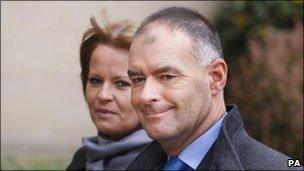 Tommy Sheridan's best man has denied being "a grass" for selling a tape in which the former MSP allegedly confessed to visiting a sex club.
At the High Court in Glasgow, George McNeilage denied his "testimony had been bought" by the News of the World, which paid £200,000 for the tape.
Mr Sheridan and his wife Gail, both 46, deny perjury.
They are accused of lying at his successful defamation case against the News of the World in 2006.
The former Scottish Socialist Party (SSP) leader won £200,000 in damages after the newspaper printed allegations about his private life, claiming he was an adulterer who had visited a swingers club.
Following a police investigation, Mr and Mrs Sheridan were charged with perjury.
Mr McNeilage was returning to the witness box for a second day.
The jury earlier heard how he is alleged to have secretly filmed Mr Sheridan in 2004, following a story in the News of the World about an un-named MSP visiting a swingers club.
The footage claims to show Mr Sheridan confessing to visiting such a venue during a chat with Mr McNeilage at his home.
Mr McNeilage said he only released the footage after the ex-MSP called SSP members "scabs" following his win at the defamation trial.
Under questioning from Mr Sheridan, who is conducting his own defence, Mr McNeilage denied being "a grass" for selling the tape to the News of the World.
Mr McNeilage was said to have given a statement to police claiming he never handed the film over before the defamation case in 2006 as he had "never shopped anyone" before.
Mr Sheridan asked him: "You were not prepared to 'grass' at a the civil case, but are prepared to 'shop' someone for money?"
Mr McNeilage replied: "This was to clear the SSP's name. I did not want involved at that time."
Mr Sheridan then asked: "You do not mind being a 'grass' as long as you get your money?"
Mr McNeilage: "No, I knew that this would be the consequences of it all. I was not going to let you away with what you done."
Mr Sheridan - who denied being in Mr McNeilage's home during the filming - claimed "deceit and dishonesty" were part of the witness's "nature' and the money he received had undermined his testimony.
The former MSP also accused Mr McNeilage, the best man at Mr Sheridan's wedding, of taking money "from the News of the World to send a former friend to jail" and claimed his testimony had "been bought".
Mr McNeilage replied: "No, not at all. They were not getting that from me to go through this."
Mr Sheridan said his former friend was "a dishonest and disloyal person and would say anything for your money - including lies" but Mr McNeilage replied: "My loyalty was not to you, pal."
In earlier exchanges, the witness told Mr Sheridan that the sum he was paid was not relevant. He claimed the tape being "bona fide" was more important.
Mr Sheridan challenged Mr McNeilage over a part of the video that had been taped over.
Mr McNeilage said it was deleted because it had him "losing the plot" with the ex-MSP.
He claimed Mrs Sheridan was also mentioned as well as other people that were going to be "put through hell".
Mr Sheridan said there may be evidence there had been "selected editing" of the film.
The former SSP leader previously alleged Mr McNeilage had worked with party colleagues Alan McCombes and Keith Baldassara in "scripting" the footage.
Mr McNeilage said: "Nonsense - you know that it is you and me, Tommy."
Mr Sheridan suggested a segment was deleted because it "exposed the tape as a phoney".
He went on: "Did the actor remove from the script and undermine the recording?"
Mr McNeilage replied: "Fantasy, Tommy."
The witness also accused Mr Sheridan of abandoning the people he grew up with in the city's Pollok area to play football with celebrity side Dukla Pumpherston.
It is alleged that Mr Sheridan made false statements as a witness in his defamation action against the News of the World on 21 July 2006.
He also denies another charge of attempting to persuade a witness to commit perjury shortly before the 23-day legal action got under way.
Mrs Sheridan denies making false statements on 31 July 2006, after being sworn in as a witness in the civil jury trial at the Court of Session in Edinburgh.
The trial, before Lord Bracadale, continues.
Related Internet Links
The BBC is not responsible for the content of external sites.