Jail for drugs courier mastermind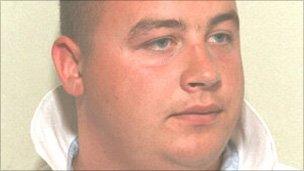 A man who controlled a number of drugs couriers in the west of Scotland has been jailed for four-and-a-half years.
William Byrne, 25, from Wemyss Bay, Inverclyde, admitted being concerned in the supply of cocaine between January and August 2008.
The High Court in Glasgow heard how he was caught during a police undercover operation which netted one-and-a-half kilos of cocaine worth about £250,000.
Two other men, who acted as drugs mules, were also jailed.
Craig Emerson and Kevin Duddy admitted acting as couriers for Byrne after being caught in separate police operations spearheaded by the Scottish Crime and Drug Enforcement Agency (SCDEA).
Emerson, from Port Glasgow, Inverclyde, was sentenced to three years and nine months for drug offences, reduced to 32 months on appeal.
At Paisley Sheriff Court, 20-year-old Duddy, from Gourock, Inverclyde, was sentenced to two years in jail.
Byrne was arrested in February 2009 following a long-running investigation by the SCDEA.
It was subsequently found that despite having declared just under £5,000 of income since 2002, Byrne lived in a £350,000 detached home.
He also owned a number of high value cars, including BMW and Mercedes, worth about £50,000.
These assets will now be the subject of confiscation proceedings under the Proceeds of Crime Act.
Jailing Byrne, Lord Matthews told him: "You were involved with the supply of cocaine over seven months or so and you did that for money.
"You obviously were the main player, although your record up to now has been minor."
Speaking after Byrne was jailed, Det Supt Rikki Bailey, from SCDEA investigations, said: "Byrne used a number of people to support his criminal enterprise to avoid getting his hands dirty.
"This was a clear attempt by him to evade law enforcement since it was unlikely he would be found in possession of any substantial quantities of controlled drugs.
"However, through our investigation we gathered substantial evidence which painted a picture of the extent to which he was involved in directing a large-scale drug dealing enterprise."
Related Internet Links
The BBC is not responsible for the content of external sites.