Man jailed for city house raids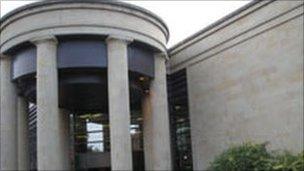 A man who threatened to murder a terrified pensioner during a robbery at his home in the west end of Glasgow has been jailed for six-and-a-half years.
Stephen Houston, 33, was armed with a knife when he raided 73-year-old David Banks's home in Partick in May.
He was caught one week after robbing 35-year-old Lucy Brouwer's home in Hyndland in June.
At the High Court in Glasgow, Houston was also ordered to be monitored for three years after release from prison.
The court heard how Houston, from the city's Maryhill area, acted with an unknown male accomplice, during both robberies.
While robbing Mr Banks's home, Houston and the other man forced him to hand over the PIN number for his bank cards.
They also made him start up his BMW while they loaded it with two TV sets, a camera, a blue ray unit, a computer and duvets.
Mr Banks was then forced back into his home, asked for cash, and told he would be killed if he identified them.
Houston and his accomplice fled the property after cutting the phone lines.
Mr Banks then had a neighbour call police. A black glove with Houston's DNA was later found in Mr Banks's house.
Houston and his accomplice tied their second victim, Lucy Brouwer, to a chair and stole her laptop, a phone and money from her wallet.
After smashing her phone, the two men left, taking her Saab and BMW cars.
Police later saw Houston driving the stolen Saab in Glasgow on 11 June and detained him.
Related Internet Links
The BBC is not responsible for the content of external sites.