Killer son tried to remove mother's brain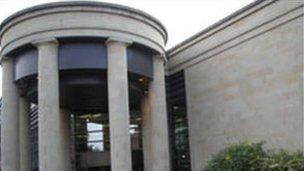 A man has admitted beating his mother to death and trying to remove her brain during an attack at their home on the Isle of Bute.
David McNeil, 40, who has mental health problems, claimed voices had told him to attack 73-year-old Mary-Rose McNeil at the house in Rothesay in June.
McNeil pleaded guilty at the High Court in Glasgow to culpable homicide on the grounds of diminished responsibility.
The case was adjourned and he was told he would be held at the State Hospital.
The court heard that on the morning of the attack McNeil had phoned 999 asking for the police to come to the home he shared with his mother.
During the call, Mrs McNeil came on the line and told the operator that her son was schizophrenic and had not taken his medication, but that everything was fine.
The court heard Mrs McNeil's daughter, Shona McLachlan, collected library books from the house later that morning and said everything seemed fine.
Shortly after 1300 BST, McNeil attacked his mother in her bedroom and repeatedly struck her on the head with a metal pole.
He then left the house and walked towards a neighbour's house and met a man delivering groceries.
The 40-year-old told him he was on medication, that he had killed his mother and that voices in his head made him do it.
The court heard McNeil went to nearby flats and told Tracy Mullin he had killed his mother.
He asked to come into her house, but she refused after seeing blood on his hands.
As he left, Ms Mullin heard him say: "My mother's dead. I've killed her. I've done her in. God sent me here because it was a safe house."
McNeil left and minutes later pushed his way into Henrietta McGowan's flat and sat on the couch, claiming he murdered his mother and that the Egyptians made him do it.
Ms McGowan dialled 999 and McNeil spoke to the operator and said he had killed his mother. Police arrived and took him to Rothesay police office.
He told officers that after hearing voices in his head he picked up a pole, which he described as a brass Egyptian sceptre, went into his mother's bedroom and struck her five or six times on the head.
When he was interviewed by police McNeil also said he continued to hear voices and attempted to remove his mother's brain from her skull with the knife.
Police found Mrs McNeil's body and a bloodstained pole and kitchen knife in the bedroom.
Judge Lord Kinclaven order that McNeil should be detained at the State Hospital on an interim compulsion order.
He adjourned the case until January next year in Edinburgh.
Related Internet Links
The BBC is not responsible for the content of external sites.