Witness claims Tommy Sheridan court win was 'OJ moment'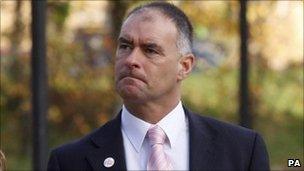 A retired head teacher has told the Tommy Sheridan perjury trial that his defamation victory against the News of the World was an "OJ moment".
Elizabeth Quinn also said she was "led to believe" Mr Sheridan may have had sex with Anvar Khan at her home in 2003 while the journalist was staying there.
Ms Khan previously claimed they had sexual contact at Ms Quinn's flat.
Mr Sheridan and his wife Gail deny lying during his successful defamation case against the News of the World.
The former Scottish Socialist Party (SSP) leader won £200,000 in damages after the newspaper printed allegations about his private life, claiming he was an adulterer who had visited a swingers club.
Following a police investigation, Mr Sheridan and his wife, both 46, were charged with perjury.
In previous evidence at the High Court in Glasgow, Ms Khan told the court she had sex with the former MSP on several occasions and visited Cupid's swingers' club in Manchester with him in 2002.
She also told the jury she had engaged in some sexual activity with Mr Sheridan while she was staying in Ms Quinn's flat in Glasgow, but stopped short of "full sex".
Ms Quinn, 70, told the trial she arrived home on 11 August 2003 to make preparations for a painter to come the next day.
She said: "Anvar had come to stay for a couple of days.
"It was the afternoon, maybe about three-ish. Anvar Khan came into the living room - there's only one room she could have come from, the room she was staying in.
"Then Mr Sheridan came into the living room. I was so stunned by the fact of him coming into my living room and presenting himself to me. I thought it was very stupid behaviour."
Ms Quinn also told the court she had "gained the impression" that Ms Khan and Sheridan had had sex, adding that Ms Khan "had led me to believe that that was what had been going on in the bedroom".
She also told the trial that Ms Khan had spoken to her about a visit to Cupid's sex club, adding that she had said it was "boring".
Ms Quinn told the court: "I didn't get the impression she would be repeating the experience."
Ms Quinn said she reported the incident to the police following Mr Sheridan's successful action against the News of the World, saying she had "feelings of disquiet" about the outcome of the case.
Under cross-examination from Mr Sheridan, she said: "I felt there was something amiss about the outcome of the trial.
"I was reading in the papers that there was an investigation following the original trial, and I thought maybe I had something salient to pass on," she told him.
Mr Sheridan asked Miss Quinn on whether she had told the police that finding out about the verdict was "an OJ moment".
Miss Quinn agreed that she had.
Mr Sheridan called the comparison "tasteless, insensitive and very silly".
But, the witness replied: "I was still living in California and that trial (OJ Simpson's) was still being spoken about.
"It definitely felt like that to me when I saw the outcome of this trial. It was a bit like hearing that OJ was declared innocent. It was a bit of a shock."
Mr Sheridan then asked what "murder" had happened in his libel trial.
Ms Quinn replied: "I was not comparing it because it was a murder case. I am comparing the sense of shock to hearing the verdicts of the two cases."
Mr Sheridan then asked: "So, you are comparing the shock of discovering the News of the World lost a case to a family losing their daughter?"
Miss Quinn replied: "Mr Sheridan, don't put words into my mouth."
The trial heard later from Alan McCombes, a long-standing friend of Mr Sheridan's and a former colleague in the Scottish Socialist Party (SSP).
He became the 15th member of the party's executive committee to tell the court that Mr Sheridan admitted going to a swingers' club during an emergency meeting on 9 November 2004, adding that there was "not a scintilla of doubt" about what he heard.
Earlier he told the court that he grew concerned that Mr Sheridan had visited a sex club following a conversation with fellow SSP member Keith Baldassara in late 2002.
Following the conversation, he arranged to meet Mr Sheridan to "discuss the information" and said he had admitted that it was true.
Mr McCombes said he was worried that the party would become "collateral damage" if the story was ever to leak out.
He said: "I wasn't having a moralistic position; my concern was that his public presentation was in sharp contrast with his private behaviour - that he had presented himself quite deliberately and consciously as a very squeaky-clean politician who constantly referred to his relationship with Gail - almost as the Daniel O'Donnell of Scottish politics.
"I believed his activities were more akin to the lifestyle of an English Premier League footballer than the leader of a political party.
"I was concerned that if this story was to appear in the media, then it would damage him and the party would become collateral damage and would be adversely affected."
Mr McCombes said Mr Sheridan had assured him that his visit to the club would remain a secret but later changed his position and denied that he had been there.
He said that following a News of the World story in November 2004, he again met Mr Sheridan at Mr Baldassara's office in Glasgow City Chambers.
He said the politician was adamant that he would sue the newspaper over the claims.
He said Mr Sheridan was "very, very gung-ho about going to court, to lie in court, to commit perjury in order to win his case".
Mr McCombes said he tried to arrange an "informal meeting" between Mr Sheridan and some of his "closest friends and allies" to discuss a "damage-limitation strategy", but Mr Sheridan refused to come.
Mr McCombes said Mr Sheridan then grew "contemptuous" and "abusive" of SSP members, adding that he was "shocked" by his attitude and it was followed by a "breakdown" in the previously strong relationship between them.
The witness told Mr Sheridan he had accused former colleagues of the "most incredible crimes".
Mr Sheridan then said the trial would hear from "good honest socialists", to which Mr McCombes responded: "You are a liar, Tommy. A pathological liar. Tommy, this is just character assassination."
Mr Sheridan replied: "That is what you are doing to me."
Mr McCombes said: "I have come here to tell the truth, facts and reality.
"JK Rowling could not make up the kind of stories you have made up. It is Harry Potter and Lord of the Rings combined, Tommy."
Mr McCombes was also questioned about a video released to the News of the World after the defamation case, which is said to show the ex-MSP and his best man George McNeilage chatting.
The witness denied he was involved in preparing a "script" for the footage. He also denied he or the party was given any money by Mr McNeilage after the video was released.
It is alleged that Mr Sheridan made false statements as a witness in his defamation action against the News of the World on 21 July 2006.
He also denies another charge of attempting to persuade a witness to commit perjury shortly before the 23-day legal action got under way.
Mrs Sheridan denies making false statements on 31 July 2006, after being sworn in as a witness in the civil jury trial at the Court of Session in Edinburgh.
The trial, before Lord Bracadale, continues.
Related Internet Links
The BBC is not responsible for the content of external sites.