Man admits gang fight killing in Cadder, Glasgow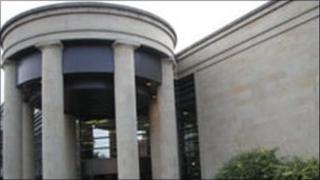 A 21-year-old man has admitted fatally stabbing a teenager during a gang fight in the north of Glasgow.
Daniel Little pleaded guilty to culpable homicide over the death of 19-year-old Stuart Dayer following the incident in Cadder in May.
The High Court in Glasgow heard that violence flared after Mr Dayer and five others from nearby Lambhill entered the area armed with a variety of weapons.
Sentence on Little was deferred until next month.
The court was told that the Lambhill and Cadder areas are "blighted by a sustained territorial rivalry".
On the day of the attack, Mr Dayer and his brother William, accompanied by four others from Lambhill, went to Cadder.
The court heard how they were armed with a dog chain, a double-headed axe, a metal pole and a Buckfast bottle.
A fight broke out between the rival gangs during which Little stabbed Stuart Dayer.
His brother William was stabbed in the back by an unknown assailant.
Reduced charge
The Lambhill group then ran away, dragging Stuart Dayer back to Lambhill where they called an ambulance.
He died in the city's Western Infirmary a few hours later.
His brother received treatment for the stab wound to his back and a cut to his head and was discharged.
Little was originally charged with murder but the Crown accepted his guilty plea to the reduced charge of culpable homicide.
Co-accused Robert McTavish, 22, admitted assaulting William Dayer by pursuing him, brandishing sticks and bottles at him and repeatedly striking him on the head and body with a bottle.
Dean Murdoch, 22, admitted assaulting William Dayer by pursuing him and brandishing a knife at him.
Both were also charged with murdering Stuart Dayer, but the Crown accepted their not guilty pleas.
Judge Lord Bannatyne remanded Little in custody and allowed McTavish and Murdoch out on bail.