Glasgow's economy 'doing badly'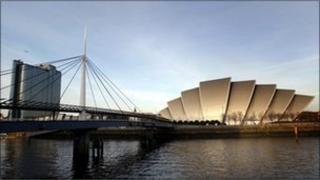 The economy of Scotland's largest city is "doing badly" and is being held back by ineffective public sector leadership, its has been claimed.
A new report by economic consultant Tony Mackay states that "Glasgow now has the highest rate of unemployment" of any Scottish local authority area.
It also accuses the city council of "glossing over" problems.
Glasgow City Council rejected the claim and said it had played an important role in developing a diverse economy.
The report said the claimant count rate of unemployment in the city was "currently 6.4%" while the wider rate - which includes the economically inactive - was "a massive 11.6%".
It states: "Those are very depressing statistics. The number of people unemployed in the city has increased by 8.5% over the last twelve months, compared with just 2.3% in Scotland as a whole.
"The implication is that the Glasgow economy is currently doing badly and there is plenty of other evidence to support that conclusion."
The report said that five years ago, Glasgow's economic growth rate was "significantly above the Scottish average" but this advantage had "disappeared in recent years".
It also highlights ineffective leadership in the public sector as one of the reasons for this decline.
"Unfortunately, both Glasgow City Council and Scottish Enterprise have gained reputations for glossing over the city's economic problems and "sticking their heads in the sand" like ostriches," the report said.
"There are many positive features to the Glasgow economy but the lack of reality and objectivity shown by these public sector bodies casts serious doubt on the effectiveness of public expenditure in the city, particularly some of the 'flagship' projects."
'Good shape'
In a statement, Glasgow City Council rejected the claim that it had failed to address problems.
"We are as aware of anyone of the challenges that Glasgow faces and are involved everyday in tackling them, and so absolutely reject any suggestion that we have glossed over or underestimated what needs to be done," the statement said.
"The initiatives launched by the council and our partners in the public and private sectors over the past dozen years have resulted in a city that is far more successful and economically diverse than before, one that continues to attract historically high levels of inward investment and is ready to emerge from the current financial conditions in very good shape.
"For example, our preparations for the Glasgow 2014 Commonwealth Games will leave us with a workforce with greater skills, businesses with improved networks and a more attractive infrastructure for investors."
Jill Farrell, financial services and west director at Scottish Enterprise, defended the agency's record in Glasgow.
New technologies
"Scottish Enterprise works intensively with almost 300 companies in Glasgow to grow their business through support such as productivity improvements and developing new business models.
"We also deliver one off support to many more companies to help them with issues such as marketing development and how to use new technologies to access new customers.
"Scottish Enterprise is investing with partners such as Glasgow City Council to build a world-class business environment to develop Scottish companies, and with Scottish Development International to attract new companies to invest in Glasgow."
The agency also pointed out that many of the job creation figures that Tony Mackay quoted in his report were secured with the help of Regional Selective Assistance, which is a Scottish Enterprise grant.