Tory candidate steps down over Scots Thatcher slur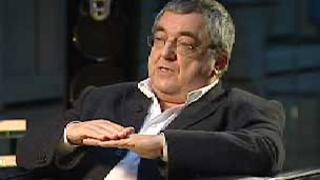 A Conservative candidate in next year's Holyrood election has resigned after allegedly saying Scots were "so thick" for hating Margaret Thatcher.
Businessman Ivor Tiefenbrun, founder of electronic firm Linn Products, was to have fought the Glasgow Maryhill seat.
In a statement he said he did not want anything to divert attention away from important issues facing the country.
The Scottish Conservatives said Mr Tiefenbrun's decision had been taken in the best interests of the party.
The businessman is said to have told The Scotsman newspaper that "you would have to be thick to accept that" former prime minister Baroness Thatcher was an "evil force" in Scotland.
The comments provoked a furious reaction among some party members north of the border.
Sir Albert McQuarrie, a Scottish Tory MP between 1979 and 1987, told The Scotsman: "They were certainly very ill-chosen words and if someone has a view about Margaret Thatcher's time in office, this is the wrong way to go about expressing it.
'Political immaturity'
"There are misinformed views that people have about Margaret Thatcher's time in office, but to say that Scots are thick is daft.
"It shows a real political immaturity as I've always believed that Scots are very proud of their views and able to put forward their points without making comments like this."
In a statement, Mr Tiefenbrun said: "There are many important issues facing our country and I have no desire for anything to divert my party - or indeed the media - from concentrating on those vital challenges.
"Accordingly, I will not be standing in the forthcoming Holyrood elections.
"I wish my successor and our candidates across Scotland well in May."
Scottish Conservative Party chairman, Andrew Fulton, added: "I have spoken to Ivor and respect and understand his decision which has been taken in the best interests of the party."
Patricia Ferguson, the Labour MSP for Glasgow Maryhill, said she was pleased that the Tories had seen sense and decided "to cut this candidate loose".
But she said: "This entire episode has exposed the Tories' utter dearth of talent in Glasgow."
The SNP's Glasgow MSP Bob Doris demanded Scottish Tory leader Annabel Goldie launch an internal inquiry into the matter.