SSP talked of changing Tommy Sheridan 'swinger minutes'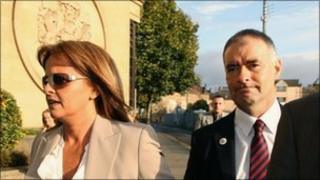 Scottish Socialist Party members talked about changing minutes in which Tommy Sheridan allegedly admitted attending a swingers club, a court has heard.
Barbara Scott told the High Court in Glasgow that party members did not want to hand the document to police as it would have "dropped Tommy in it".
Mr Sheridan and his wife Gail, both 46, are on trial accused of perjury.
They are accused of lying to help him successfully sue the News of the World in 2006. They deny the charges.
Mr Sheridan, who resigned as leader of the Scottish Socialist Party (SSP) days after the meeting in November 2004, won £200,000 in damages over claims that he was an adulterer who had visited a swingers club.
After a police investigation, Mr and Mrs Sheridan were charged with perjury.
On the second day of the new trial, Ms Scott said a citation asking for the documents was sent to the Scottish Socialist Party (SSP) headquarters ahead of Mr Sheridan's civil defamation action.
The 40-year-old, who took the minutes at the 9 November 2004 meeting, said the party was reluctant to hand them over.
She previously told the court the documents recorded Mr Sheridan admitting twice to visiting a swingers club in Manchester.
She said: "The party didn't want to hand them over because they would have dropped Tommy in it."
Ms Scott said she had not seen the minutes since late November 2004 when she had handed them in to the party.
However, she said there had been talk of changing minutes and she decided she wanted to get them back.
They were returned to her after she asked for them.
Ms Scott told the court: "I just thought I want to have them. I want to decide what I do with them because there was already talk in the party about whether or not to destroy minutes or change them."
The court heard she was a witness in the earlier civil case and was cross-examined by Mr Sheridan.
She said: "He said I had fabricated the whole minutes after the fact as part of a conspiracy against him."
Advocate depute Alex Prentice QC asked what she thought of the theory.
She replied: "It's laughable and not true."
'Destroy our party'
Former SSP treasurer Allison Kane also gave evidence.
She told the court she was at the meeting where Mr Sheridan allegedly confessed to visiting the club.
She said the former party leader later contacted her by phone so no formal minutes would be produced.
She said: "Tommy wanted them not to be produced, to suggest to other people that we should lose them. I did not agree with him."
The 42 year-old said Mr Sheridan also wanted her to talk to the press and lie about SSP colleagues.
She told the court: "It was to spread details of other people in the party having affairs.
"I thought he had lost the plot at that stage, but I did appreciate why he had asked me.
"At first, I did not know what to do. I knew that if I reported it, it would be the end of our friendship.
"However, his course of action would destroy our party and make us unelectable."
Ms Kane said she later decided to report the matter to the party.
It is alleged that Mr Sheridan made false statements as a witness in his defamation action against the News of the World on 21 July 2006.
He also denies another charge of attempting to persuade a witness to commit perjury shortly before the 23-day legal action got under way.
Mrs Sheridan denies making false statements on 31 July 2006, after being sworn in as a witness in the civil jury trial at the Court of Session in Edinburgh.
The trial, before judge Lord Bracadale, is due to last between two and three months and is expected to become the longest perjury case in Scottish legal history.