Tommy Sheridan 'spoke of swingers club', court is told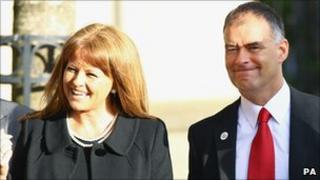 Tommy Sheridan admitted to political colleagues that he had twice visited a swingers club, a court has heard.
Barbara Jane Scott told the High Court in Glasgow she was taking notes at a Scottish Socialist Party meeting when the former MSP made his comments.
Mr Sheridan and his wife Gail, both 46, are on trial accused of perjury.
The couple are accused of lying in court to help Mr Sheridan successfully sue the News of the World in 2006. They deny the charges.
Mr Sheridan won £200,000 in damages after the newspaper printed allegations about his private life, claiming that he was an adulterer who had visited a swingers club.
After a police investigation, Mr and Mrs Sheridan were charged with perjury.
In the first day of the new trial, Ms Scott, 40, told the court that the Scottish Socialist Party (SSP) called an emergency meeting of its executive committee after the newspaper article appeared.
The meeting took place on 9 November 2004 at the SSP headquarters in Stanley Street, Glasgow.
'Character flaw'
Advocate Depute Alex Prentice QC, prosecuting, asked her the purpose of the meeting.
Ms Scott replied: "It was to discuss what was to happen about the fact there had been a newspaper story in the News of the World the previous weekend."
She told the court that she remembered Mr Sheridan was the first to speak at the meeting.
Ms Scott said Mr Sheridan talked about the story in the News of the World about an unnamed married MSP who had gone to a swingers club in Manchester.
She said Mr Sheridan admitted it was him but that it had not been on the dates they said in the paper.
Ms Scott added that Mr Sheridan said "it was two different dates, and it was a flaw in his character, it was a weakness that he had, but it had only been those two times".
She was then shown an A4 notebook, which she said contained the notes she had made at the meeting.
As well as herself, there were 20 members of the executive committee at the meeting, including Alan McCombes and Keith Baldassara.
Ms Scott read from notes she made at the meeting of what Mr Sheridan said.
She read out: "Two visits 1996, 2002, mistake, reckless etc. Publication of book by someone, two other MSPs named. For two weeks someone been trying to sell story to newspapers.
"Keith Baldassara and Alan McCombes last Monday. Asked for opportunity to fight this on own. Confident no proof of participation."
Ms Scott told the court that by this he meant there were no photos.
She read on: "Don't think should have to be hostage to fortune, don't deserve sympathy but do deserve opportunity to fight it.
"Some people may feel loss of confidence. It's for comrades to decide. If by February don't have confidence, will stand down."
'Close to prostitution'
Mr Prentice asked Ms Scott why the committee had wanted Mr Sheridan to resign.
She said: "We were concerned that he would be named.
"It was hypocritical...his image of a family man, having your wife with you in the paper and then visiting this club.
"This was close to prostitution. We did not think his position would be tenable."
It is alleged that Mr Sheridan made false statements as a witness in his defamation action against the News of the World on 21 July 2006.
He also denies another charge of attempting to persuade a witness to commit perjury shortly before the 23-day legal action got under way.
Mrs Sheridan denies making false statements on 31 July 2006, after being sworn in as a witness in the civil jury trial at the Court of Session in Edinburgh.
The trial, before judge Lord Bracadale, is due to last between two and three months and is expected to become the longest perjury case in Scottish legal history.