Man found dead radio host's phone in Glasgow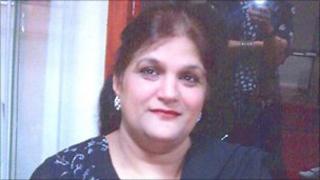 A court has heard how a mobile phone belonging to murdered radio presenter Nasim Jamil was found on derelict land in the east end of Glasgow.
Malcolm Mitchell, 47, told the High Court in Glasgow he found a holdall with a handbag inside which contained a purse, a mobile phone and keys.
He was giving evidence in the trial of 29-year-old Khalid Sarwar.
Mr Sarwar denies murdering Awaz FM agony aunt Mrs Jamil, 54, by repeatedly striking her on the head and body.
Mr Mitchell told prosecutor Dorothy Bain QC that he was searching for items, which he called "luckies", to sell to get money when he stumbled across the holdall at a four-acre site at Hunter Street, Glasgow, in March this year.
Key-ring kept
He said: "I climbed over the wall into the site and found a holdall. Inside it there was a handbag and in it was a purse with money, a lot of paperwork, a mobile phone and keys."
Mr Mitchell said that lying loose in the holdall was a claw hammer and two small glass Irn Bru bottles.
When asked by Ms Bain what he did next, Mr Mitchell replied: "I took the phone and the money."
He told the jury he also kept a key ring with the words Awaz FM on it because he liked the look of it.
The court heard that he used the money - a £10 note, some change and a $50 note - to buy alcohol.
Mr Mitchell used the phone to call his daughter and when new information was obtained in the case in September this year, police traced him through his daughter's phone number.
He agreed to go with police to the piece of waste ground and show them where he discovered the holdall.
The court heard that police found the holdall, a handbag and bank cards in Mrs Jamil's name, along with clothing at the site. They also found keys with a key-ring bearing the name Nasim.
When the search was extended, a Marks and Spencer bag containing a hammer and a screwdriver was uncovered in the undergrowth. A light bulb was also found nearby.
Mr Mitchell was shown the bag with the hammer and screwdriver and said he had never seen it before.
He said that the hammer was not the one he had seen in the holdall in March.
Other charges
When asked by defence QC Donald Findlay what he had done with the hammer in the holdall, Mr Mitchell replied: "I threw it away".
Mr Sarwar is accused of murdering Mrs Jamil on 9 December 2009 by repeatedly striking her on the head and body with a hammer and screwdriver or similar instruments and hitting her on the head with a bottle and a piece of glass.
He is also charged with stealing three knives, a quantity of clothing, a light bulb, two phones, keys, gloves, a watch, a bracelet, a necklace, a pair of earrings, a handbag and a sum of money.
Mr Sarwar is also accused of attempting to pervert the course of justice on 11 December last year, by giving false information to police officers.
He denies all charges.
The trial before Lord Brodie continues.