Jobs go as theme park is closed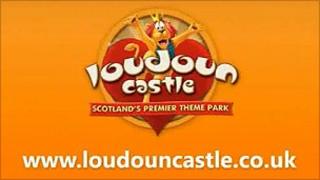 One of Scotland's best-known theme parks has closed with the loss of 11 full-time staff and 160 seasonal jobs.
Loudon Castle, near Galston, East Ayrshire, was one of the area's best-known attractions.
Its Dutch owners took the move after deciding the business was no longer economically viable.
The park opened in 1995 set around the ruins of a 19th Century castle. It featured a variety of thrill rides, live shows and a petting farm.
'Great regret'
It is understood that eight people have been retained at the park while its owners decide on a new direction.
Alan Neish, head of planning and economic development at East Ayrshire Council, said: "The council has worked closely with Henk Bembom, owner of Loudoun Castle Theme Park, for many years and it is with great regret that we were advised this week of his intention to close the park.
"Countless families in our own area and far beyond have enjoyed this major attraction over the years and we are heartened to learn that Mr Bembom plans to take the park in a new direction.
"We look forward to discussing his new proposals in the near future and we will assist him in any way we can."