Levein backs new sports facility at Ravenscraig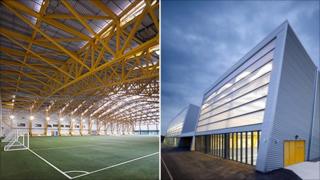 Scotland manager Craig Levein believes a new £32m sports centre in North Lanarkshire could have a "massive impact" on football at all levels.
The facility, on the site of the former Ravenscraig steelworks, has full-size indoor and outdoor artificial pitches.
It also caters for athletics with a six-lane running track and throw and jump areas.
The Ravenscraig Regional Sports Facility, run by North Lanarkshire Leisure, officially opens on Thursday.
The British Steel works at Ravenscraig shut in 1992 and the site was cleared four years later.
The new sports facility is part of one of the largest regeneration projects in Europe.
It also includes a £70m campus for Motherwell College and 850 new houses now under construction.
The sports facility incorporates a strength and conditioning area, a multi-sports hall, a fitness gym, dance studios and a sports injuries clinic.
Mr Levein hopes it will have a positive impact on the future of football in Scotland.
"Facilities are a key element of Henry McLeish's review of Scottish football and an integral part of improving the stream of young talent into the Scotland national teams," he said.
"As we've seen with similar centres in Glasgow and Aberdeen, a facility like the one here at Ravenscraig has the potential to have a massive impact on football at all levels, and the local community in general.
"From my point of view, giving players access to good quality public facilities around the country can only be a good thing for the future of the national team."
Funding for the new centre came from North Lanarkshire Council and Ravenscraig Ltd with an additional £7.3m from the Scottish government, through the national sports agency, sportscotland.
Council Leader Jim McCabe said: "It's been a real pleasure watching this magnificent building gradually transform the once derelict landscape of Ravenscraig.
"Now that it's open, it will provide the people of North Lanarkshire with some of the best facilities in the country and will help encourage our young people to adopt a healthy lifestyle through sports."