Radio host murder accused 'owed friend £800'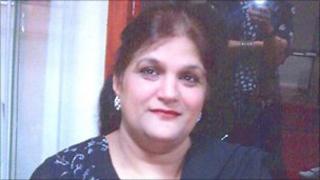 A man accused of murdering an Asian radio presenter repaid a loan to a neighbour the day after she died, a court has heard.
George Oxlade, 61, told the High Court in Glasgow that Khalid Sarwar appeared "slightly agitated" when he handed over £800 on 10 December 2009.
Mr Sarwar, 29, is accused of murdering Nasim Jamil at her flat in Glasgow.
He denies killing the 54-year-old Awaz FM agony aunt by repeatedly striking her on the head and body.
Mr Oxlade, a heavy goods driver with UK Mail, told the court that Mr Sarwar had asked to borrow £2,300 from him in October 2009.
He said that he told the accused he could not spare the full amount, but agreed to lend him £800.
Mr Oxlade said that the money was to be repaid on 2 December, but he did not receive it then and texted Mr Sarwar who said he would get it to him soon.
The court was told that Mr Oxlade was shopping in Asda on 10 December 2009 - the day after Mrs Jamil died - when his wife phoned to say Mr Sarwar was at their home in Dennistoun with the money.
Mr Oxlade was asked how Sarwar appeared and said: "He was slightly agitated. He repaid me £820. I gave him the £20 back and told him to buy children sweets or something."
He added: "He just kept fiddling with his phone. He said he thought something had happened to his friend's mother. This was round about 5.10pm."
Earlier Mr Oxlade told the court he was initially approached about the money by Mr Sarwar in October last year during a visit to his home.
He told the jury that Mr Sarwar said he was not getting on with his parents and brothers who lived with him and also claimed he was having to pay the £1,200 on a mortgage while his parents were away in Pakistan.
Mr Oxlade added: "I told him I wanted the money back for the middle of December as I needed it then. It was money I had saved up for Christmas."
Other charges
Mr Sarwar is accused of murdering Mrs Jamil by repeatedly striking her on the head and body with a hammer and screwdriver or similar instruments and hitting her on the head with a bottle and a piece of glass.
He is also charged with stealing three knives, a quantity of clothing, a light bulb, two phones, keys, gloves, a watch, a bracelet, a necklace, a pair of earrings, a handbag and a sum of money.
Mr Sarwar is also accused of attempting to pervert the course of justice on 11 December last year, by giving false information to police officers.
He denies all charges.
The trial before Lord Brodie continues.