Man, 23, jailed for sword attack in Coatbridge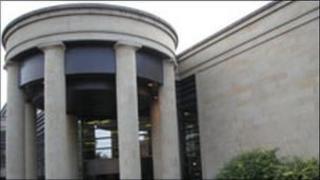 A man who admitted attacking a fellow reveller with a sword just hours after a 21st birthday party has been jailed for five-and-a-half years.
Andreas Garifalou, 23, seriously injured Ryan Mulvey, 20, as the victim left his brother's home in Coatbridge, North Lanarkshire, in March this year.
The High Court in Glasgow heard how the muscle on Mr Mulvey's arm was almost detached from the bone.
Garifalou was also ordered to be supervised for three years on release.
The court heard how both men had been at a 21st party at a nightclub in Coatbridge on 27 March.
'Atrocious crime'
Mr Mulvey later left with others to go to the home of his brother David.
While en-route, Garifalou briefly pulled up in a car and yelled: "What is your brother all about?"
Mr Mulvey went to his sibling's house before leaving at about 0400 GMT.
He spotted Garifalou standing in the street with up to six men behind a nearby van.
Garifalou then pulled out an 18-inch sword and struck Mr Mulvey, who sustained injuries to his head, left arm and buttocks.
Passing sentence, judge Lord Uist told Garifalou: "A substantial sentence has to be imposed for this atrocious crime."