Pensioner jailed over girls abuse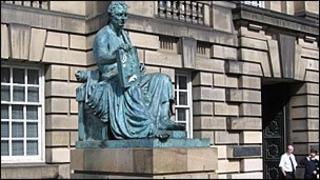 A pensioner convicted of sexually abusing three girls almost 30 years ago has been jailed for five years.
Hugh Robertson, 67, from Ayr, committed the abuse between May 1981 and July 1984 which started when the girls were aged five, seven and nine.
The High Court in Edinburgh heard how he also assaulted one of the victim's on one occasion with intent to rape her at a house in Tarbolton, Ayrshire.
Robertson was also placed on the sex offenders register.
The court heard how he took off the children's clothing, showed them pornographic magazines and carried out sex acts.
'Highly reprehensible'
Passing sentence, judge Lord Pentland told Robertson: "It is clear you gained the trust of these girls and then took advantage of them when alone with them in your house."
"Betraying the trust they placed in you and abusing them for your own sexual gratification is, in my view, highly reprehensible."
The judge told Robertson that he appeared "to have little sense of remorse or insight into the damage" his abusive behaviour had caused.
He added: "The sentence I impose must mark the gravity of your conduct, society's condemnation and abhorrence of the sexual abuse of children and the damaging effect the behaviour had on the victims."
Lord Pentland also said he would recommend that Robertson's name be added to a list of those considered unsuitable to work with children.