Accused 'admitted visiting' murdered radio presenter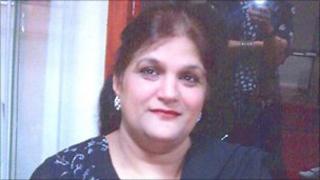 A policeman has told a murder trial that a man accused of killing an Asian radio presenter admitted visiting her the day she died.
Constable Andrew Ballantyne, 44, said Khalid Sarwar made the comments two days after Nasim Jamil was found dead at her flat in Glasgow's Byres Road.
He was giving evidence at the High Court in Glasgow.
Mr Sarwar, 29, denies murdering 54-year-old Mrs Jamil by repeatedly striking her on the head and body.
PC Ballantyne said the accused came up to him at the mobile incident caravan in Byres Road two days after Mrs Jamil was found dead.
He told prosecutor Dorothy Bain QC: "He said to me: 'I know the woman who died in the flat the other day. I called her mum. It's my friend's mum but I call her mum. I've known her for a couple of years and I went up to see her the other day'."
Meal together
His colleague DC Pamela McCowie told of how she then took a statement from Mr Sarwar at Partick police station.
In it he said he went to Mrs Jamil's flat at about 1430 GMT on 9 December last year and left at approximately 1600 GMT.
He said that they both ate a lamb dish she had prepared and then chatted in the kitchen for about 10 minutes before he left.
Mr Sarwar said he had been for a job interview earlier that day and they had talked about that and Mrs Jamil's health.
He said that as he left the flat he could hear the sound of the storm door and the inside door being locked.
Mr Sarwar told police he walked along Byres Road, into Great Western Road and then walked to his home in Dennistoun.
He told police that he was wearing a three-quarter length black coat, black tracksuit bottoms, a blue hooded top and trainers and these clothes were taken away for analysis.
Digital media investigator DC Jennifer Bell, 34, told Ms Bain that she was given photographs of Mr Sarwar, Mrs Jamil, her daughter Nazia, son Omar and her daughter-in-law and asked to trace their movements on 9 December.
The jury was told that during the investigation into the death of Mrs Jamil, who was an agony aunt on Awaz FM, she viewed CCTV footage in Byres Road on the day she died.
The footage, taken at a different location in Glasgow on the day Mrs Jamil died, showed Mr Sarwar wearing a short jacket with silver buttons, dress trousers and dress shoes and carrying a rucksack.
Other charges
Mr Sarwar is accused of murdering Mrs Jamil by repeatedly striking her on the head and body with a hammer and screwdriver or similar instruments and hitting her on the head with a bottle and a piece of glass.
He is also charged with stealing three knives, a quantity of clothing, a light bulb, two phone, keys, gloves, a watch, a bracelet, a necklace, a pair of earrings, a handbag and a sum of money.
Mr Sarwar is also accused of attempting to pervert the course of justice on 11 December last year, by giving false information to police officers.
He denies all charges.
The trial before Lord Brodie continues.