Electricity plant fuelled by waste food in Cumbernauld opens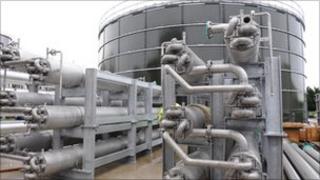 A plant which converts food waste into electricity has been officially opened in Cumbernauld.
Deerdykes is Scotland's largest organic recycling facility.
The plant which is run by Scottish Water can generate enough green energy to power 2,000 homes a year.
It is the first site in the UK to combine in-vessel composting and a technique known as anaerobic digestion which breaks food down into gas and converts the gas into electricity.
Zero Waste
Deerdykes has been built at a cost of £7.5m and is based on the site of a former treatment works and can handle 30,000 tonnes of food waste a year.
Scottish Water said in addition to renewable energy, the new process creates nutrient rich digestate which can be used as a biofertiliser reducing the need for chemical fertilisers.
The company's commercial director, Chris Banks, said: "This new plant shows we're leading the way not just on renewable energy but in helping Scotland towards its ambition of zero waste. The facility has also created employment in the local area."
Scottish Water said it was looking at possibility of producing of biomenthane from biogas with the intention that this would be a sustainable vehicle fuel that could be used by its fleet.