'Virtual minister' leads worship at two churches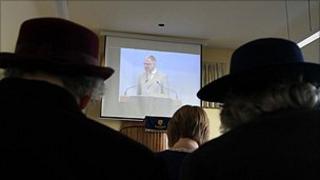 The first Free Church of Scotland service has been held using equipment to link two congregations miles apart.
Paisley Free Church, which has no minister, linked up with Dowanvale Free Church, seven miles away in Glasgow's west end, for the Sunday service.
Rev Kenneth Stewart was the virtual minister leading the worship, appearing simultaneously in both churches.
The firm behind the technology, WS Steele, said it planned to offer it to other churches facing similar problems.
The link-up was created using a high-end remote-controlled camera.
'Very busy'
The signal was relayed by laptop to the Silk Street church where the congregation participated via an 8ft x 8ft screen.
Ivor Martin, Free Church spokesman, said: "The image that is very often given and perceived by the public of the Free Church as being backward is a false one. It is one that does not match up to the reality.
"Ordinary people in the Free Church are trying to make the most at this time of modern technology."
WS Steele's managing director, Stuart McArthur, said: "It's the first time we have used our Audio Visual conferencing expertise to link two churches.
"We're confident the 'virtual minister' format will work well and prove cost-effective, and we plan to offer it to other churches facing a similar problem."