Tunnock's staff walk out over pay dispute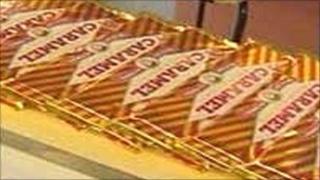 The workforce that makes Tunnock's teacakes and caramel wafers is holding a one-day strike at its Uddingston plant.
The action follows the rejection of a 2% pay offer.
Workers at the Lanarkshire factory have also voted to follow up with another stoppage next Tuesday and a continuous work-to-rule.
Members will formally vote on whether to accept or reject the offer with a ballot due to close on 4 October.
It is understood that about 350 employees are taking part in the 24-hour industrial action.
The plant, founded in 1850, produces well-known confections such as Teacakes and Caramel Wafers.
Unite spokesman Derek Ormstone said: "The industrial action has been well supported by the workers in really horrible weather conditions.
"The level of solidarity amongst our members is very strong and they feel a great amount of anger towards the management by the way the company have dealt with the pay negotiations.
He added: "Our members are very strong-willed and determined to get a fair and just pay-deal."