Radio presenter's body found 'in coffin pose'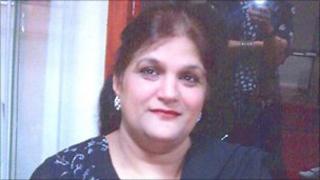 The neighbour of a radio presenter found dead in her Glasgow home has told a murder trial how she was positioned "as if she was in a coffin".
Maureen Tripovic told the High Court in Glasgow she rushed into Nasim Jamil's flat when the dead woman's daughter banged on her door screaming for help.
Ms Tripovic was giving evidence at the trial of 29-year-old Khalid Sarwar.
He denies murdering the 54-year-old Asian radio presenter by repeatedly striking her on the head and body.
Ms Tripovic told the court that Mrs Jamil's daughter Nazia Jamil, 36, came to her door in Byres Road at about 1945 GMT on 9 December 2009.
Choking back tears, she said: "She was screaming, she was banging on the door with her hands screaming for me, shouting 'Maureen, come please', she just would not stop screaming my name.
"It's indescribable the pain that I heard from her and I knew there was something wrong."
Supermarket cashier Miss Tripovic, 46, rushed into her neighbour's flat, where she found Ms Jamil standing in a "bowing position" screaming "my mum, my mum".
She said: "I ran into the kitchen and I seen her mum lying there. When I looked at her and seen all the blood and her eyes were opened, I knew she was away.
"Her head was at the washing machine and there was a dragging mark down the washing machine as if she had been pulled.
"She looked as if she was placed. Her arms down her sides, her legs together. She looked as if she was in a coffin and her eyes were open."
Other neighbours then arrived on the scene and one lifted Mrs Jamil's hand slightly to check whether she had a pulse.
Ms Tripovic said she struggled with the victim's daughter to prevent her going back into the kitchen until police and paramedics arrived.
Ms Tripovic was later shown a crime scene photograph taken by police which showed Mrs Jamil's head close to the fridge freezer, her left arm stretched out and her right arm tucked behind her head.
This was different from the position which she had earlier described in evidence.
When asked by defence QC, Donald Findlay, if anyone had done anything to Mrs Jamil's body "that could have resulted in such a clear difference in her position", she replied: "No".
She told the court she saw no-one move the body and said that after a 999 call was made a police officer guarded the door and let no-one in.
Another neighbour of Mrs Jamil's was also shown a crime scene picture of her body and claimed it had been moved.
Leonard Archibald, 54, who lived below, told of how he had gone to her flat after hearing Mrs Jamil's daughter scream.
He told defence QC, Donald Findlay, that Mrs Jamil's left arm had been straight down by her side, but was out to the side in the picture.
He added that her head had been in front of the washing machine when he saw her, but in the photograph her head was in front of the fridge freezer.
Mr Archibald also told the court that Mrs Jamil's eyes had been open and they were closed in the photograph.
He added: "I didn't move her arms and I didn't close her eyes, but I said a prayer over her."
Mrs Jamil was a presenter on Asian radio station Awaz FM.
Mr Sarwar is accused of repeatedly striking her on the head and body with a hammer, screwdriver, knife or similar instruments, repeatedly striking her on the head with a bottle and piece of glass and murdering her.
He is also accused of stealing a light bulb, two telephones, keys, gloves, a watch, a bracelet, a necklace, a pair of earrings, clothing, three knives, a bank card, an umbrella, a handbag and its contents and money.
He faces a third charge of attempting to pervert the course of justice.
Mr Sarwar denies all the charges and has lodged a special defence of incrimination.
The trial before Lord Brodie continues.