Daughter found Asian radio presenter's body in flat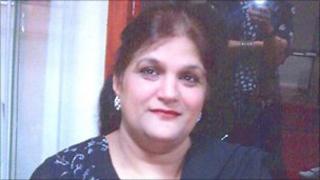 A woman has told the first day of a murder trial how she found her mother's blood-stained body on the kitchen floor of their family home in Glasgow.
Nazia Jamil, 36, told the High Court in Glasgow that the flat she shared with her mother Nasim Jamil was open and in darkness on 9 December last year.
She was giving evidence at the trial of 29-year-old Khalid Sarwar.
He denies murdering the 54-year-old Asian radio presenter by repeatedly striking her on the head and body.
Prosecutor Dorothy Bain QC asked Ms Jamil about her mother and she replied: "She was my backbone, my best friend. She had time for everybody. She was so bubbly, always full of life."
Ms Jamil told the court that she came back from work about 1930 GMT on 9 December 2009 and found the storm doors to their third floor flat flat in Glasgow's west end ajar and the hall in darkness.
She said she initially thought they had been robbed and told of how she looked in every room before going into the kitchen where she found her mother's body lying on the floor.
Ms Jamil said: "I just lost it seeing my mother lying there. There was blood on the washing machine and blood on her cheek. I screamed really, really loud."
Ms Jamil told the court that her mother was lying on her back with her head pointing towards the washing machine, her arms were by her side and there was glass beside her.
The jury heard that Ms Jamil screamed so loudly neighbours came to find out what was wrong and called the police.
The court heard that murder accused Mr Sarwar was introduced to the family by Ms Jamil's brother, Omar, 31, who met him through work.
It was said Mr Sarwar was quickly treated as a brother by Ms Jamil and as a son by her mother.
Loan request
Ms Jamil said that Mr Sarwar bought her mother a Mother's Day present of a necklace and he had given her a budgie in a cage for Christmas in 2008.
Ms Jamil claimed that Mr Sarwar told her and her mother that he was going to marry his dead brother's wife and live with her in Pakistan and asked them to lend him £2,000. They refused to do this.
Ms Jamil said that Mr Sarwar turned up at their flat in Byres Road on 6 and 8 December.
On both occasions she said he was rude and aggressive and looked unkempt and on 8 December he asked Ms Jamil what shift she was working the next day.
The court was told that Mrs Jamil, who was a popular presenter on Awaz FM, an Asian community radio station, had been widowed when her daughter was just 12 and had brought up her son and daughter alone.
Ms Jamil told the jury that her mother was saving for a religious trip to Saudi Arabia and had money in a cupboard in her bedroom and a glass jar in the living room.
The court was told that after her mother's death police officers returned £2,700 to Ms Jamil which they found in the flat.
Prosecutor Dorothy Bain QC showed Ms Jamil photographs of two knives, a set of keys and bank cards which were found on waste ground in Glasgow earlier this month.
Ms Jamil said the keys and three of the bank cards belonged to her mother and the fourth card was hers.
She also told the court that the knives looked similar to ones they had in the kitchen of their flat.
Under cross-examination by Donald Findlay QC, Ms Jamil admitted that her brother Omar had left the family home after a row months before she died and they had not been on speaking terms.
Mr Sarwar is accused of murdering Mrs Jamil by repeatedly striking her on the head and body with a hammer and screwdriver or similar instrument s and hitting her on the head with a bottle and a piece of glass.
He is also charged with stealing three knives, a quantity of clothing, a light bulb, two phone, keys, gloves, a watch, a bracelet, a necklace, a quantity of clothing, three knives, a pair of earrings, a handbag and a sum of money.
Mr Sarwar is also accused of attempting to pervert the course of justice on 11 December last year by giving false information to police officers.
He denies all charges. The trial before Lord Brodie continues.