Steam engine moves to new Glasgow museum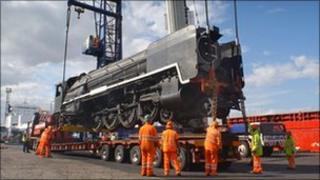 Glasgow's newest museum is taking delivery of a massive steam locomotive ahead of its planned opening next year.
Locomotive 3007 will be the largest single exhibit on show at the Riverside Museum from Spring 2011.
The 197 tonne engine is being wrapped in protective materials ahead of its transfer later this week.
Built in 1945 in Polmadie, Glasgow, the 15F mountain class locomotive spent all its working life in South Africa before being brought home in 2007.
The engine worked for 40 years pulling the Blue Train from Johannesburg to Cape Town until 1988 when she was mothballed.
The locomotive was brought back to Scotland by transport giant FirstGroup, which is founder patron of the Riverside Museum Appeal.
Since 2007, it has been undergoing extensive restoration work.
'International importance'
Sir Moir Lockhead, chief executive of FirstGroup, said: "It is a privilege for First to help return part of our proud engineering heritage to Scotland.
"Its return to Glasgow will give new generations the chance marvel at this wonderful example of the rail revolution Scotland gave to the world.
"Glasgow's transport collections are of international importance and it is fitting that the Mountain Class locomotive will be at the heart of the new museum."