Glasgow Boys exhibition sets new record for Kelvingrove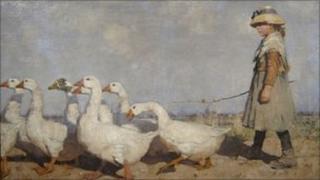 An exhibition of work by a group of artists known as the Glasgow Boys has broken visitor records at one of Scotland 's busiest galleries.
More than 105,000 people have paid to see the exhibition at the Kelvingrove Museum - making it the best-selling visual arts exhibition of all time.
The exhibition, which began in April, is the first devoted to the group since 1968.
The Glasgow boys were 23 artists, who worked in the city in the 1880s.
Despite having very different styles, they shared the same ideals of art - choosing natural subjects and locations over the more established studio work.
Their first major art show in 1885 caused a sensation at the time.
The selection of more than 140 paintings on display at Kelvingrove is one of the largest ever staged.
The 105,000 visitors to the museum are 2,000 more than the previous record set in 1948 when works by Vincent Van Gogh were showcased.
When the exhibition closes on 27 September, about 90 of the paintings will be transferred to London for another exhibition at the Royal Academy.