Taxi driver who attacked fare dodger walks free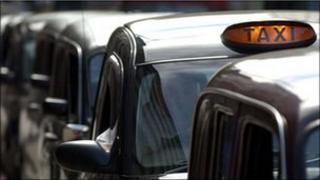 A taxi driver who beat up and took money from a passenger who was sick in the back of his cab, then refused to pay for it, has walked free from court.
Alan McClure, from Erskine, admitted assaulting Albert McCondochie and robbing him of £30 in Paisley in March.
The town's Sheriff Court heard the 44-year-old took the law into his own hands after police did not intervene.
After considering submissions of support, Sheriff Susan Sinclair gave McClure an absolute discharge.
This means he will not have a criminal record.
The court heard how McCondochie was sick in McClure's taxi on 14 March and refused to pay to have an interior valet service carried out.
He was then driven to a police station in Paisley as the driver sought to have the issue resolved.
After McCondochie walked out, McClure was told by officers that there was nothing they could do.
He later went to the address he had been given by McCondochie, grabbed hold of him, assaulted him and stole £30.
Defence agent John Gardner said the episode had cost his client dearly as he had lost his licence and was unable to work as a taxi driver or find alternative employment due to the prosecution.
Sheriff Susan Sinclair went off the bench to consider a large number of references produced in support of McClure and his good character.
After studying them all and considering submissions made on his behalf, she granted him an absolute discharge.
"I do not condone what you did at all but accept that it was a moment of madness," she said.
"You had never been in trouble before that night and your actions have cost your family considerably.
"Having considered the large number of references presented, what has been said on your behalf, and all the background, in all of the extraordinary circumstances of this case, I am going to do something unusual and grant you an absolute discharge."