Glasgow worst hit as passengers down at BAA airports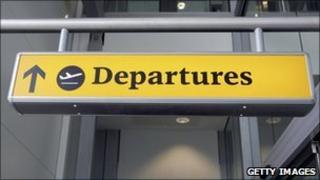 Passenger numbers are down at most of the UK's major airports, with Glasgow the worst affected.
Figures from airport operator, BAA, show that passenger numbers at its six airports fell by an average of 3.2% between September 2009 and August.
Glasgow showed a 9.9% decrease, with Aberdeen not far behind on 8%. The smallest drop, 0.8%, was at Heathrow.
BAA operates Heathrow, Stansted, Glasgow, Edinburgh, Aberdeen and Southampton airports.
During the same period, passenger numbers fell at Stansted by 7.4%. Southampton recorded a 3.2% drop while Edinburgh showed a 3.6% drop.
'Improved trade'
BAA said it UK airports handled 10.6 million passengers in August, which was a drop of just 0.6% on the same month last year.
A spokesman said: "BAA has seen a significant rise in confidence this year and with Heathrow enjoying its busiest ever August, passengers across all airports fell only very slightly.
"It's been an exceptional 12 months with the ash crisis but we've invested in our airports and our people and we're now delivering a better customer experience.
"Also of importance is that fact that cargo volumes are now above pre-recession levels, which is a great indicator of improved trade and of new confidence in the economy.
"Heathrow is the UK's biggest trading port and clearly this has all manner of benefits for partner airports in Scotland and for the wider UK economy."