South Lanarkshire staff challenge Gary Glitter sacking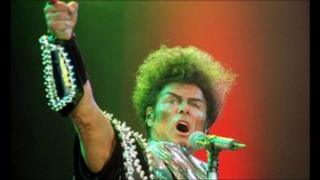 Four former social work staff are claiming unfair dismissal after being sacked for distributing a joke e-mail of convicted paedophile Gary Glitter.
Deborah Reilly, Angela Nelson, Anne Lang and Rosemary Boyle have raised an action against South Lanarkshire Council alleging their sacking was "disproportionate" to what they did.
At least nine council workers were originally suspended over claims they made inappropriate use of the council's e-mail system, following an investigation in late 2008.
The e-mails were tracked by the council's IT unit.
An employment tribunal in Glasgow heard the image showed Glitter holding a bag with a superimposed child inside.
Jim Wilson, the council's head of adult and older people services, was the person who fired the women in November 2008.
He told the hearing that forwarding the e-mail was "totally inappropriate particularly for someone involved in social care".
Mr Wilson said he made a distinction between members of staff who circulated the e-mail and those who deleted it and did not forward it but did not tell a manager.
Describing the image, he claimed it portrayed Glitter with a youngster in a bag "as you would do with whatever you collected from duty free" adding that it appeared to show "a real child."
'Vastly inappropriate'
It was put to him that sending the e-mail was "like putting him in the stocks and throwing eggs at him".
Mr Wilson replied: "There were some attempts made by some staff that it was in that context, but the vast majority said it was vastly inappropriate."
Three of the women making the claim worked from the council's office in Rutherglen, near Glasgow while Miss Boyle was based at the social work department in Blantyre, Lanarkshire.
It is expected all four will give evidence when the tribunal resumes later this year.
Former rock star Glitter - real name Paul Gadd - served almost three years in prison in Vietnam for sex crimes involving two young girls.
He was deported from the country at the end of his prison term.
He has a prior conviction for possessing child pornography, for which he served two months in jail in 1999.