Glasgow University facing £35m shortfall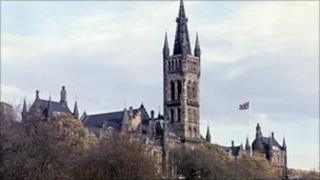 Glasgow University is facing a £35m budget shortfall unless it takes action to cut costs, it has emerged.
The university is now drawing up plans to cut about £20m in annual costs over the next four years as well as raising £15m in additional revenue.
Principal Anton Muscatelli told staff in a memo that swingeing public sector cuts were expected to see it lose about 8%-10% in total income.
Union chiefs claimed the university cuts would be "savage".
The memo, sent on Tuesday, stated: "Given that we are committed to maintaining a surplus of 2% to ensure sustainability and our capacity to invest, the forecasts show that if we don't act there will be a budget shortfall of £35m per year by the end of 2014-15."
Options being considered include generating £15m in extra annual revenue by attracting more fee-paying students, more commercial income and more philanthropic giving.
The university is also looking to make £20m per year in savings through better control of its estates and energy costs, identifying potential efficiency savings and reducing employment costs.
The university court has commissioned "clear and detailed" plans on how to achieve the savings needed.
Alex McLuckie, senior organiser of the GMB union, said the university had already offered academic staff voluntary redundancy in recent months and embarked on a recruitment freeze.
He added: "The university are looking to increase charges to bring in £15m per year. This leaves £20m to be saved by savage cuts.
"I feel that it's imperative that message from the principal should be widely circulated to GMB members in other universities and to the public so that they can gear up to fight these cuts."
A Glasgow University spokesman said the university's management team were in a planning phase which would help it to face up to "what will be a very difficult period for all universities".
He added: "We are looking to generate more income to make up any shortfall and at the same time are considering ways in which we can cut expenditure.
"The University of Glasgow is in a good financial position compared with others in the sector and we have built up a reputation over the past decade for strong and responsible financial management."