Squirrel 'stowaway' on wildlife holiday cruise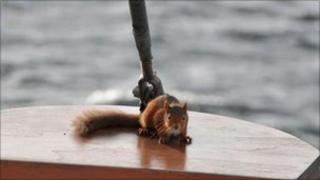 Efforts are to be made to capture a red squirrel found on a wildlife holiday cruise boat.
The "stowaway" was thought to have fled to The Majestic Line's Glen Massan vessel following a territorial dispute with another squirrel, or being frightened by a bird of prey.
It has been on the Heritage and Wildlife of South Argyll Cruise since Monday morning.
The squirrel was spotted after the boat anchored in Loch Riddon.
It was first sighted by Canadian professional photographer Steve Boyton.
Good health
Initial efforts to catch the animal were unsuccessful.
Fresh attempts will be made to capture it on Friday morning when the cruise ends at the Holy Loch Marina.
Loch Lomond and Trossachs National Park ranger Jim Downie will board the Glen Massan and lay traps.
He said he was optimistic that the squirrel would be caught unharmed and in good health.
Should his attempts prove successful, it will then be returned as close to the spot where the Glen Massan was anchored.