Clydebank 'cocaine cash' murder man jailed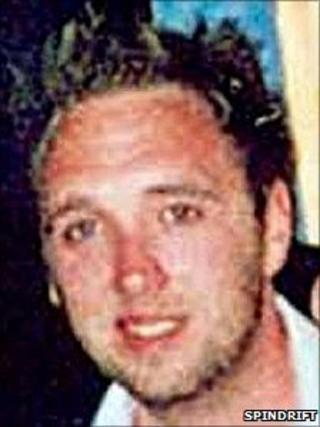 A man who murdered a drug dealer over a £50,000 debt has been jailed for at least 17 years.
John Mullen, 48, admitted killing Paul Boland, 28, with a sharpened steel spike in Clydebank, west Dunbartonshire, in December 2008.
A court had heard how Mullen gave Mr Boland £50,000 to finance a scheme to import cocaine from the Dominican Republic.
At the High Court in Glasgow, Mullen was sentenced to life imprisonment.
Temporary judge John Morris QC told him it was a "premeditated and brutal killing".
Mr Boland was stabbed by Mullen as he sat in the front seat of a Range Rover just yards from Mullen's home in Fullers Gate, Clydebank.
Mullen, who was in the back seat, rammed the steel spike into Mr Boland's neck causing fatal injuries.
Mr Boland ran from the car, but was found dying outside the nearby Doublet Bar in Clydebank.
The court was told that Mullen snapped because he believed he would never see the cash Mr Boland had borrowed from him again.
On the fifth day of a murder trial Mullen sacked his defence counsel and pleaded guilty to murder.
Cocaine scheme
The trial jury earlier heard that Mullen gave Mr Boland, who had interests in a shop and a pub, £50,000 to finance a scheme to import cocaine from the Dominican Republic and expected to get £100,000 back.
But Mullen became concerned after learning that Mr Boland still owed £135,000 to drug dealers for cocaine he bought and then diluted so much no-one would buy it.
The court heard that Mullen then ordered his son and family friend 38-year-old Gary Edmonds to bring Mr Boland to him.
Mullen changed his plea to guilty after Mr Edmonds gave evidence at the murder trial.
Mr Edmonds told the court he watched as Mr Boland ran from his BMW clutching his neck as Mullen chased him round a corner while holding a "spiky-looking thing made of steel".
Sentencing Mullen to life imprisonment, temporary judge John Morris said: "Your victim was a drug dealer, but he didn't deserve to die. I set the punishment part of your sentence at 17 years."
Mullen's son John Jr, 28, had his plea of not guilty to murder accepted.