Glasgow shooting was 'not a random attack'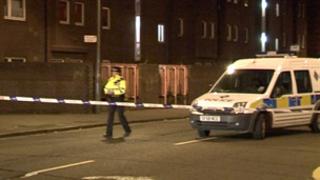 The shooting of a man in a Glasgow street was "not a random attack", police have said.
The 41-year-old, who has not been named, was targeted by a man who got out of a black car and shot him near Dale Path in the Bridgeton area at about 2005 BST on Tuesday.
He was taken to Glasgow Royal Infirmary, where his condition was described as "serious but stable".
Police have appealed for information about the incident.
Det Insp Graham Cordner, of London Road CID, said: "From our inquiries so far, we know that this was not a random attack and the man was the intended victim.
"However, it is totally unacceptable that a man is shot in the middle of the street and in daylight.
"It is a residential area around here with hundreds of flats. There could have been children running about and caught up in this incident - it is just not on."
Det Insp Cordner added: "As I said, there are lots of homes here and undoubtedly someone will have heard a gun firing.
"There is a goldmine of information out there and local people hold the key to us catching the person responsible."
Police described the man who got out of the car as white, 5ft 8ins, about 40, with short blond hair.
He was unshaven and wore a dark-coloured tracksuit with the hood up.
The victim is understood to be local to the area.
Officers are currently studying CCTV footage and carrying out door-to-door inquiries.