Glasgow Papal pilgrims told to use public transport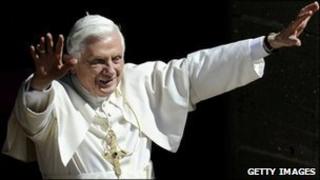 Pilgrims from Glasgow travelling to the Pope's mass at Bellahouston Park have been told by organisers to use public transport to get there.
Parishioners thought they would be using private buses but have been told they will now need to use buses, trains and the underground.
More than 70,000 people are expected at the Pope's mass on 16 September.
A spokesman for the Catholic Church said public transport was the "most efficient" way of getting to the mass.
Parishioners in the city had paid a £20 donation which they understood would cover the cost of private coaches to Bellahouston Park.
However, the Catholic Church has now said those who have made the donations will now receive passes which will include the use of public transport.
'Parish bus run'
Event organiser Monsignor Peter Smith said he accepted the change could cause upset for some but insisted it was the best way to get large crowds to the event.
He said that when private coaches were considered for people living in Glasgow, it became clear that some parishioners travelling to Bellahouston Park would face a lengthy walk once dropped off.
He added: "So now we've tried to make arrangements where there are several places where people can be dropped off using various means of transport and moving people in a sense in the most quick and efficient way around the city."
The monsignor said organisers were trying to be "sensible" but conceded pilgrims living in Glasgow would have to shoulder some inconvenience.
He added: "What we're trying to do is to ask the people that are nearest the park to take a bit more of the inconvenience of travelling because obviously if you're travelling from Aberdeen, Inverness, Wick, Thurso - you're going to be a long time before you get home.
"The people in Glasgow are going to be tucked-up with their Bovril watching the highlights on Reporting Scotland long before anyone's home in Aberdeen.
"This is designed to be a pilgrimage, it's not the parish bus run."
He added that local bus firms would be upping the number of buses running on the day of the Pope's visit.
Traffic management plans are still being finalised across central Scotland to minimise disruption.
Transport Scotland is advising travellers to plan their journey in advance to take account of road restrictions including the closure of the northbound M77 from J2 to the M8 at J22, and partial closures of slip roads on the M8 and A8.