Huge growth at largest wind farm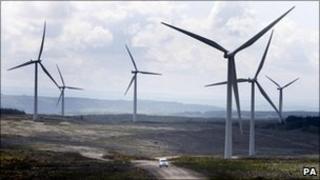 A massive expansion is to take place at Europe's largest onshore wind farm, which is situated in East Renfrewshire.
ScottishPower Renewables is to add another 75 turbines to Whitelee wind farm on Eaglesham Moor by 2012.
This will bring the number of turbines on site to 215 - raising electricity generating capacity by two thirds.
The 140 turbines currently at the wind farm, to the south of Glasgow, can produce enough electricity to power 180,000 homes.
The expansion will see its generating capacity increase from 322MW to 539MW - enough to power about 300,000 homes.
Since the site began producing electricity in 2008, ScottishPower Renewables has secured further planning consent - in May and December 2009 - to expand.
The growth will see 69 Alstom ECO 100 turbines added, each with a 3MW capacity - greater than the current 2MW models.
Six ECO 74 turbines with 1.67 MW capacity each will also be added.
Simon Christian, UK director of ScottishPower Renewables, said: "The agreement with Alstom means that work will start shortly on this major extension at Whitelee wind farm, and we expect to be generating electricity by 2012.
"By itself at 217MW, the extension would be one of the largest onshore wind farms in the UK, so we are starting another major construction project in Scotland.
"Whitelee wind farm is already the largest onshore wind farm in Europe and this extension pushing the overall capacity to 539MW will make it one of the largest in the world."
Mr Christian said the extension project would also provide up to 200 jobs.
WWF Scotland's climate policy officer, Dr Sam Gardner, said: "Today marks another step forward in Scotland's ambition to harness renewable energy.
"Whitelee wind farm already makes a very welcome contribution to meeting Scotland's targets for renewable electricity and reducing climate change emissions. The addition of further turbines is most welcome."