St Ninian's High School catchment rules could change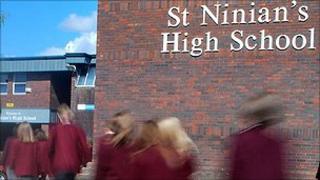 Pupils at two Glasgow primary schools could lose the right to attend one of Scotland's top performing secondaries.
East Renfrewshire Council wants to limit automatic admission to St Ninian's High, Giffnock, to three feeder primary schools in its own area.
This would mean pupils at St Angela's and St Vincent's in Glasgow would need to make placing requests.
A consultation on the proposals - to deal with overcapacity problems at St Ninian's - will run until November.
The cross-border arrangement between East Renfrewshire Council and Glasgow City Council over the school was born out of local government reorganisation in the mid-1990s.
It was agreed that pupils from St Angela's and the former St Louise's primary schools would attend St Ninian's.
When St Louise's was closed during a merger with St Vincent's Primary, a portion of its pupils who stayed in certain postcode areas, retained the right to transfer to St Ninian's.
New housing developments in the St Angela's catchment area also saw more children from Glasgow qualify for transfer to St Ninian's.
Last October, East Renfrewshire began moves to remove these new developments from the automatic catchment area.
But the father of one girl who was refused a place successfully overturned the decision in court.
Following talks with Glasgow, East Renfrewshire now wants to remove all feeder primary schools outside its area from the automatic catchment area for St Ninian's.
Vice convener of education and chair of the cross-border working group Councillor Elaine Green said: "Despite two large extensions, St Ninian's High School cannot cope with the demands placed upon it.
"To handle that position, which clearly isn't going to go away, we have developed a new proposal and are now consulting with parents, pupils, residents and other interested parties.
"We acknowledge that the proposal is a compromise but we believe it is a fair and workable solution that will address the issue of pressure of places and is broadly representative of the views expressed by the working group."
The consultation, which got under way on Monday, will run until 5 November.
If the proposals are agreed, the new arrangements would be implemented from August 2012.