Great Scottish runners take to Glasgow streets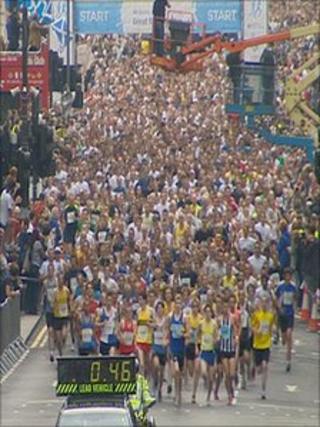 Organisers have said a record 23,386 people took part in this year's Great Scottish Run.
Described as the largest mass participation sports event in Scotland, the race featured a half marathon, 10k run and races for junior competitors.
Matthew Gillespie, from Shettleston, won the 10k race in 31 minutes and 12 seconds.
Haliu Mekonnen, from Ethiopia, completed the half marathon in just over one hour and one minute.
The event, first held in 1982, is expected to generate more than £1.5m for charity.
Archie Graham, the deputy leader of Glasgow City Council, who took part in the 10k run, said: "Every year the event sets new records, from personal bests to the numbers taking part, and today was no different, with a record-breaking 23,386 people registering for the various races.
"It truly was a day to remember."
Also taking part in this year's race was Scottish Health Secretary Nicola Sturgeon and TV presenter Michelle McManus.
Ms Sturgeon was running with members of community radio station Awaz FM to raise cash for flood victims in Pakistan.
Pop Idol winner and The Hour co-host Ms McManus took part in support of the Handicapped Children's Pilgrimage Trust.