Travel warning before Pope visit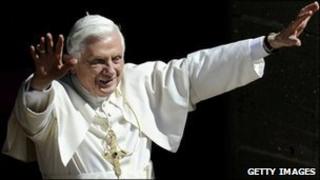 Traffic management plans are being finalised across central Scotland to minimise disruption during the visit of Pope Benedict XVI on 16 September.
Transport Scotland advised travellers to plan their daily journey in advance to take account of road restrictions.
The northbound carriageway of the M77 in Glasgow will be closed from J2 to the M8 at J22.
There will be partial closures of slip roads on the M8 and A8 and restrictions on local Glasgow and Edinburgh roads.
Transport company, Stagecoach, is co-ordinating travel to the open air Mass at Bellahouston Park in Glasgow.
Those attending are being provided with specific travel plans, incorporating bus, rail and Subway services.
Jim Barton, Transport Scotland's chief roads engineer and director, said: "With around 85,000 people travelling to Bellahouston Park in Glasgow and about 100,000 expected in Edinburgh, safety is paramount.
"That is why road authorities and transport providers have prepared comprehensive and co-ordinated plans.
"There will be a number of restrictions on the trunk roads and motorways, including a partial closure of the northbound M77, with further closures and diversions on local roads networks through Glasgow and Edinburgh."
Mr Barton said some of Scotland's busiest rail stations would also be very busy at points throughout the day.
He added: "Delays should be expected so we urge people to plan their daily journey in advance, leaving more time than usual and considering public transport alternatives where possible.
"This includes commuters and other people going about their normal business and particularly those using the M77 northbound to reach Glasgow."
Train services into and out of Edinburgh and Glasgow will be particularly busy on the day of the Papal visit.
Train operator ScotRail is putting queuing systems and additional carriages in place where possible to assist with those going to see the Pope.
Transport Scotland has provided a dedicated Papal visit page on its website where the general public can find useful links for journey planning and other general advice.