Man jailed for Clyde Tunnel crash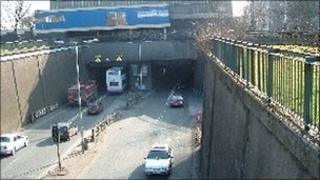 A disqualified driver who left four people injured after a high-speed crash in Glasgow's Clyde Tunnel has been jailed for 16 months.
William Gallagher was travelling at 90mph in a 30mph zone when he crashed into another car in May.
Before sentence at Glasgow Sheriff Court, the 32-year-old admitted driving dangerously and injuring four people.
He also pled guilty to driving while disqualified and without insurance and failing to give police a blood sample.
The court heard how Gallagher was giving his friend Joseph Lynn, 19, and a 14-year-old girl who cannot be named for legal reasons, a lift as he drove through the tunnel just after midnight.
At the same time, Steven McVey, 22, and Claire Lafferty, 20, were also in the tunnel on their way to Prestwick Airport.
They spotted the accused approaching quickly behind them in the outside lane and decided to move into the left hand lane to let him pass.
But as they did so, Gallagher raced into the inside lane to undertake them and struck them as they moved in.
The crash caused serious damage to both vehicles and pushed Mr McVey's car into the wall of the tunnel.
After emergency services arrived, everyone involved in the crash was taken to the Southern General Hospital but no-one sustained serious injuries.
Gallagher refused to give a blood sample to police at the hospital and was later charged with the offences.
Sentencing Gallagher, Sheriff Bill Totten told him: "You're fortunate not to have caused fatal injuries to both the occupants of your car and the others in the tunnel."